Books by Rahul Alvares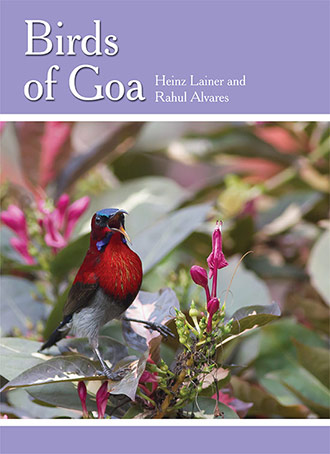 Paperback edition is priced at Rs.800. Hardback at Rs.1200.
Heinz Lainer — with 35 years of bird watching experience — and Rahul Alvares — snakeman and wildlife photographer — get together to produce this splendid new book on the Birds of Goa for the season of 2013. The beautiful volume is published by the Forest Department, Government of Goa in association with the Goa Foundation.
Birds of Goa is a great combination of science and art. You will find authoritative information on the habitat, population, distribution, migration, breeding status and any other locally relevant data of all the 440+ bird species. It has hundreds of pictures of birds, exquisite, extraordinary, always in action. Never thought so many "feathered friends" have holed up in such a small corner of the planet. In fact, most people will depart this earth without even having seen these beauties.
The new book is printed on glossy art paper throughout, in A4 coffee-table book size and has 240 pages. It was printed at Mudra, Pune, which specialises in artwork publications.
If you want to take back a great memory of Goa, besides the cashew nuts and the ocean sprays, nothing better than this exquisite publication. Gift a copy to it to those who wish to keep Goa forever in their hearts.
The Call of the Snake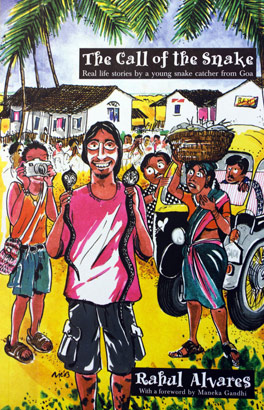 Rs. 125/- or $ 6
The simple one-syllable word 'snake' readily conjures up waves of terror in the hearts of most people. Here's a book that will help you change your mind – and successfully treat your inherited fears – about these creatures. The Call of the Snake contains consummate little stories about snakes written by one of Goa's better known snake handlers, while on his snake-catching rounds.
Related with a fine sense of humour and with great attention to detail, the stories will teach you a lot about these reptiles while also keeping you wholly enthralled and entertained. After you have read and enjoyed them, you will see snakes differently forever; as friends and not as mortal enemies. The book contains, in addition, critically useful information about snakes and how you can survive a venomous snake bite.
Free from School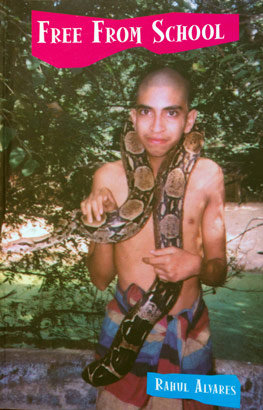 Rs. 100/- or $ 5
It's not every day that a 16 year old writes a book. In fact, girls and boys of that age are supposed to spend their time studying what other people write. It is presumed that at that age they do not themselves have anything significant or interesting to say. And the education system guarantees just that. The best rewards go to those who can parrot set answers to set questions in examination halls. Those who try to use their imagination or reply differently are often punished with low grades.
Rahul Alvares did not set out to write a book. Under the encouragement of his parents, he consciously set out to try his hand at learning things outside the school framework and you might say as a result, Free From School, actually came looking for him! After his SSC, unlike his other classmates, he opted out of schooling to follow his instincts; fond of reptiles, he chased them at the Pune Snake Park, and at the Crocodile Bank at Mamallapuram. In the process he also picked up trails of spiders, earthworms and turtles. He caught snakes in the company of Irula tribals. He got bitten by hot-tempered reptiles. He came out of it all grinning and wiser.
Free From School is his story of a year out of school, when the learning graph of his young life went up leaps and bounds. He wrote it to encourage other body and girls his age to move out of the sterile school and college environment offered by India's antiquarian educational system, if they wish to experience another side to life and learning. He lost nothing but gained a lot. So did his parents. When you read his story, so will you.
To buy these books call 91+832-2263305 or email: otherindiabookstore @gmail.com. To order your copy over the net search otherindiabookstore.com