Click on the pics themselves to load them in high resolution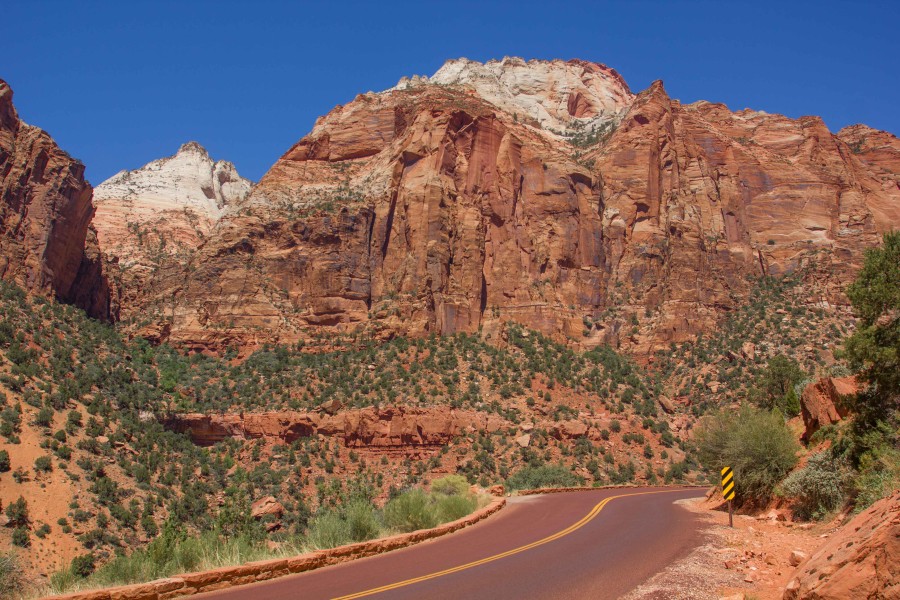 (pic: Zion National Park)
"These trees are big…these trees are extremely big."
"Uh huh."
"These trees are massive Heidi…they are so big they make big trees look small."
"Oh yeah?"
"My God that tree is so tall I can't see where it ends…"
"I get it Rahul…these trees are big," Heidi laughs. I can also tell that she's so pleased that I'm absolutely mesmerized and spellbound by the sheer size of the gigantic trees around me. I'm like a kid at the biggest toy shop in the world!
Nothing could have ever prepared me for the sight of the California Coastal Redwoods. The biggest trees in the world! In fact the biggest living thing in the world. The biggest animal that has ever lived–a Blue whale–gets to 30 meters in length and can weight up to 180 tons. Massive no doubt. But a feather weight compared to one of these trees that max out at 130 meters and weigh almost 2000 tons! And they live much longer too. Tortoises can live to a ripe age of 150 years. But in this forest the youngest trees are about 600 years old. The middle aged ones are perhaps close to 2000 years old!
I have to admit I have never ever been so transfixed and delighted by a tree before! Less than a year ago I was standing next to another giant: an Australian Acacia in Tasmania. They are the second tallest trees in the world and occasionally rival the Redwoods in length. But for some reason the Coastal Redwoods seem much bigger. They definitely seem thicker. They make me think of Jack and the beanstalk. And their woody bark (unlike the silver smooth skinned Acacias) has them looking like they come from a time long gone by. The whole forest seems very old and for a strange reason very comforting.
Heidi is trying to get a picture of me and a big Redwood in the same frame. I've already tried that and it didn't work. To photograph one of these giants you need to have an unobstructed view of one from at least thirty meters away. That can't happen since every tree in this forest has a crowd of brothers surrounding it. I could stay here the whole day. But Heidi and I are already late. It's now about 1 pm and we still have a ten hour drive before we get to our destination in San Francisco. So we get back in her Toyota Tacoma truck. She's the driver and I'm the pretend navigator on this road trip of ours that just began the previous evening in Eugene.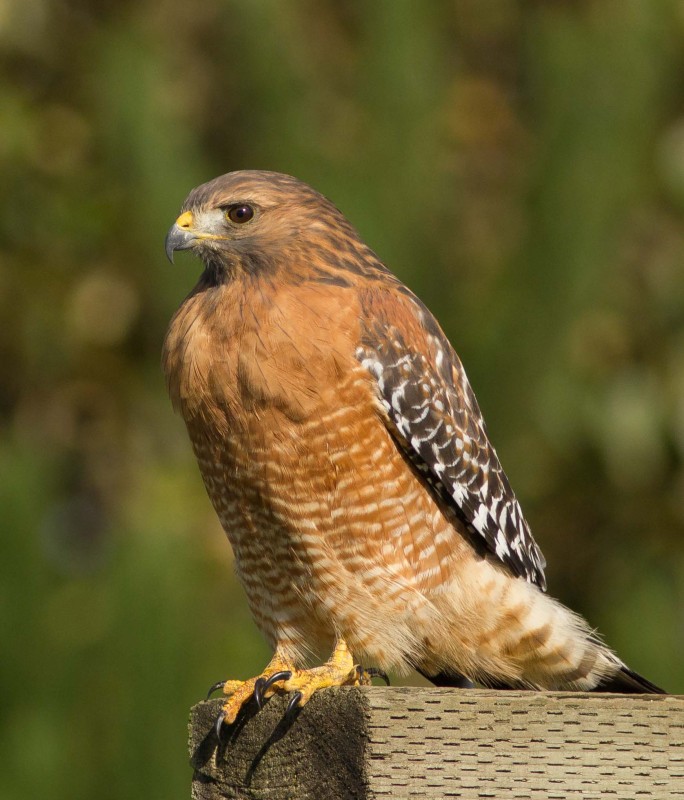 (pic: Red shouldered hawk)
Our first stop that evening was at an isolated cabin close to some mountains south of Eugene. The cabin had been very generously lent to us by her boss Lori Maddox for the night. A short walk from the cabin was the beautiful river Illinois. The water was freezing cold and for some strange reason Heidi had an urge to jump into it.
"You don't have to do it Rahul…I'll be in and out in a second anyways," she'd tried getting me off the hook.
I had thought it totally nonsensical for her to dive into the freezing river. But when she had jumped in, I had jumped in too. Strangely, after thirty seconds I could hardly feel the cold anymore. I then realized that that was because my skin had lost all feeling of sensation and almost completely numbed out from the cold water. Out of the water, I had to agree with Heidi. The shock treatment did feel amazing. Or maybe it was just the relief that came from knowing that the suicidal dip was finally over!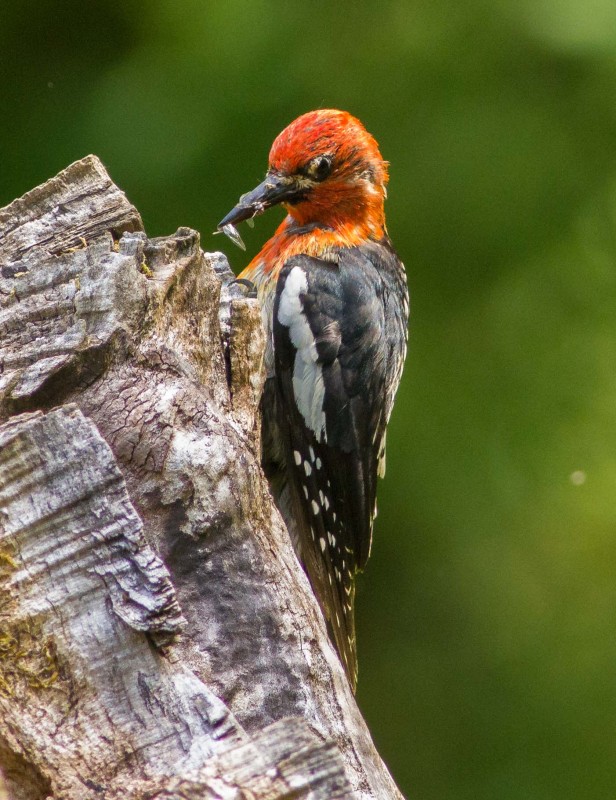 (pic: Red-breasted Sapsucker photographed at Mount Pisgah Eugene)
I have known Heidi for seven months now. We've been in touch since the first time we met back in Goa when I was her guide. She, Lori and three other women had crammed into my car to go on a birding trip. I never let her forget that of all the women attending the trip that day, she had shown the least interest in spotting birds. It had not taken me long to figure out that the main reason she was on the bird trip was because her friends wanted her to come along! I have no sympathy for disinterested clients and I remember totally ignoring her the entire trip! But when the trip had ended she, Lori, and I had gotten chatting.
I knew that both of them lived in the US and considering that my next planned trip was there, I saw it as only fair to spend all my time socializing with them. At the end of twenty minutes, I patted myself on the back for skillfully exchanging the possibility of taking them to one of my favorite beaches in exchange for the certainty of Lori putting me up for a few days and for Heidi showing me around when I visited them in the US!
In the end I did take them to the beach the next morning. But the humbling truth as I learned in hindsight was that they were both going to go out of their way to help me on this US trip anyways. Lori sent me an invitation letter to add to my US visa application. And Heidi would do just about everything else, including picking me up from the airport two hours' drive away, and being the perfect host during the three weeks that I would stay with her.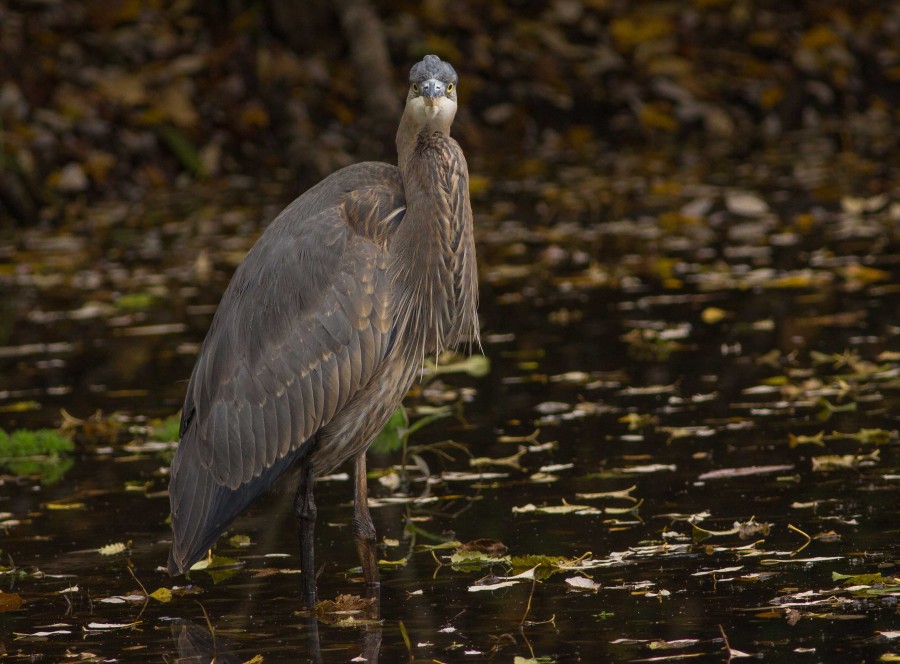 (pic: Great Blue heron photographed in Delta ponds Eugene)
"I'm so excited! I've been waiting to do a road trip like this for ages and you're making it all possible Rahul!" She's got a big smile on her face while she's staring straight ahead and driving. The insinuation is ridiculous of course. It's her truck, her time, her planning and her friends that are making all this possible. All I can claim credit for is being the excuse to do the trip!
We reach her friend Betsy's place way past midnight. She and her husband Mike are already asleep but they've left the door open for us and a note at our bedside, which includes the Wi-Fi password! Before we hit the bed Heidi treats me to the spectacular view of San Francisco city we have from across the Bay in Sausalito.
Betsy and Mike are a friendly and generous couple. In the morning when we wake up Betsy is already figuring out breakfast for us and food to carry for the day. By the time we leave Betsy's place, it's ten in the morning. Sunlight is flooding everything and it's an absolutely great day to be driving around.
"Oh I miss this place so much," says Heidi. She lived here for seven years before she moved to Eugene and she knows the place like the back of her hand. Much of her research as a field scientist was conducted here. As we drive around looking for birds to photograph she constantly points to her field study areas. We visit Tomales Bay and Point Reyes National park. By evening I have a decent overview of the entire area. I also have decent pictures of a turkey vulture in flight and some smashing photographs of terns diving into the sea and flying away with fish in their beaks.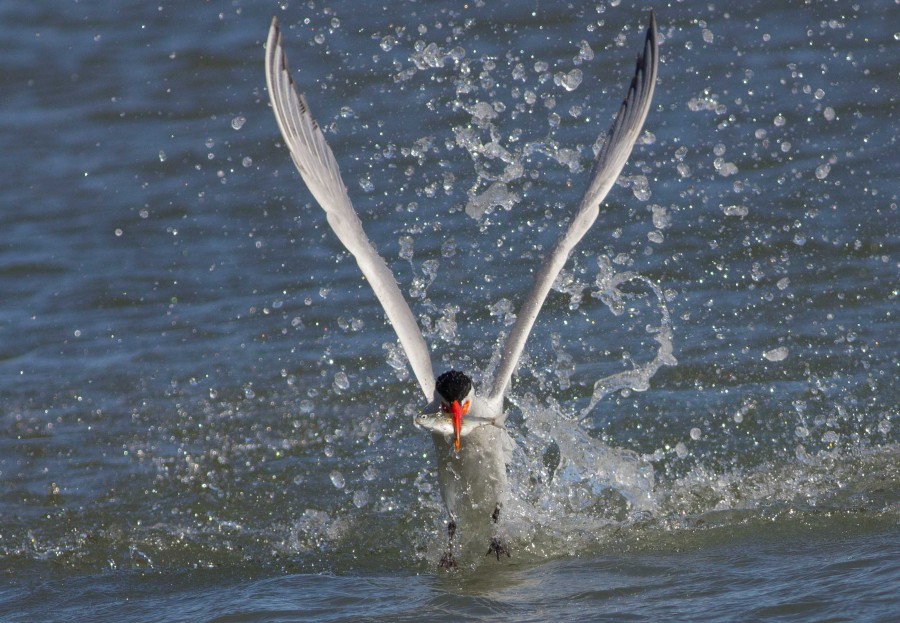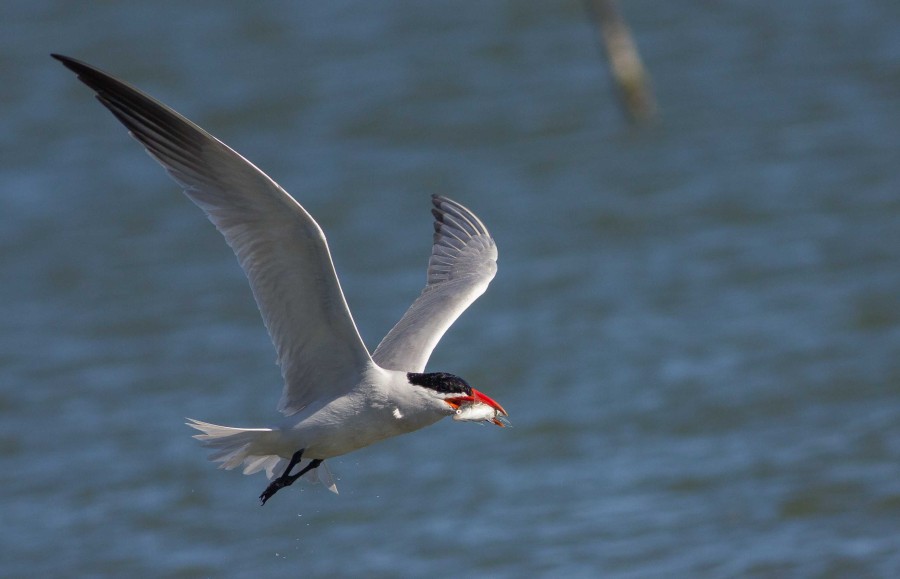 By three o clock the next evening we've met all the girlfriends on her list and stocked up at a grocery store for our continuing road trip. We've got some serious driving to do over the next few days. For today though, we aren't going very far. Not with the truck at least! Heidi has booked a cabin for us for the night on Mount Tamalpias, known locally as Mt. Tam. It's one of her favorite places in the world and she can barely hide her excitement at being back there and showing it to me.
While I share her sense of excitement at spending the night in a remote cabin at the top of a mountain, I also have a certain amount of anxiety. It's the "getting there" part that is bothering me! I know the truck doesn't go all the way to the top of the mountain. That means we have to walk the last part of it. How far? Heidi is quite vague about it. Perhaps two hours of walking. Is that at her pace or mine? She's a seasoned trekker, while I need my car for traveling any distance more than forty-seven meters!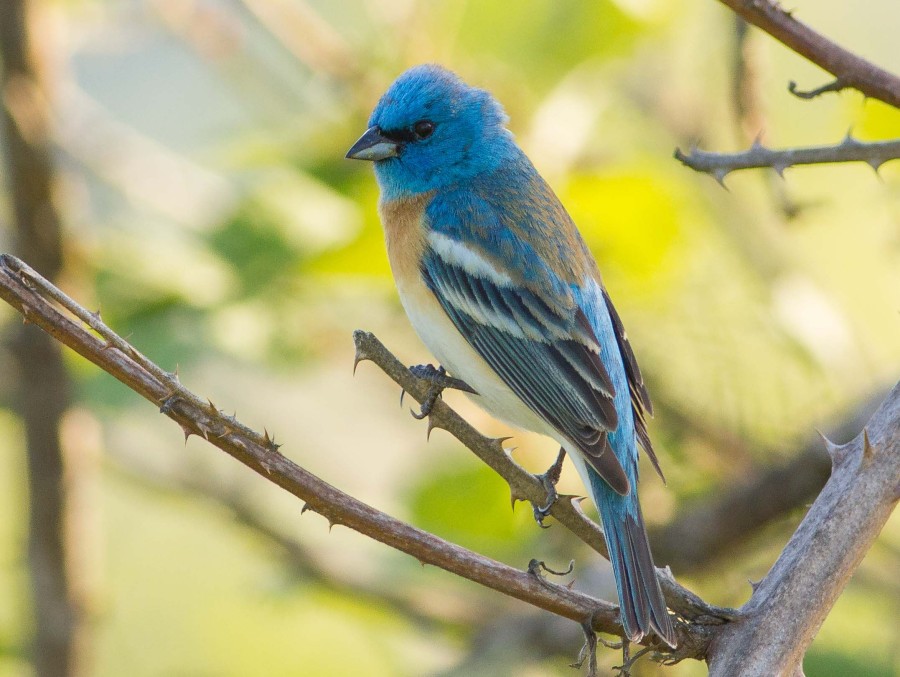 (pic: Lazuli Bunting photographed on Mount Pisgah)
Truck parked, Heidi starts loading a backpack with everything we're gonna need for the night. We need to carry food too, so the bag turns out to be surprisingly heavy by the time she's done.
"I'll carry it first and then when I'm tired you can take over," she says, as she deftly adjusts the straps to distribute the weight optimally for hiking. We start our walk and in seven minutes it's obvious that she can hike faster than me, even with the handicap of the backpack that probably weighs more than ten kilograms! In twelve minutes I'm serious lagging behind. But I won't admit I'm slower. Instead I find unoriginal excuses to stop, such as the need to tie my undone shoe laces or the chance to photograph something. Heidi is kind and plays along by pretending she needs to slow down as well. But judging by the ease at which she's moving, I know that if she were alone she'd probably be going twice as fast!
An hour and a half later we are at our destination. Heidi has carried the backpack the entire way. Which is just as well since I have only barely managed carrying myself to up here! Even though I'm still not a fan of hiking, I must admit to Heidi that in doing so I've seen some fabulous forest and landscape.
"We are in one of those," says Heidi, pointing to one of three wooden cabins that have silently materialized out of nowhere.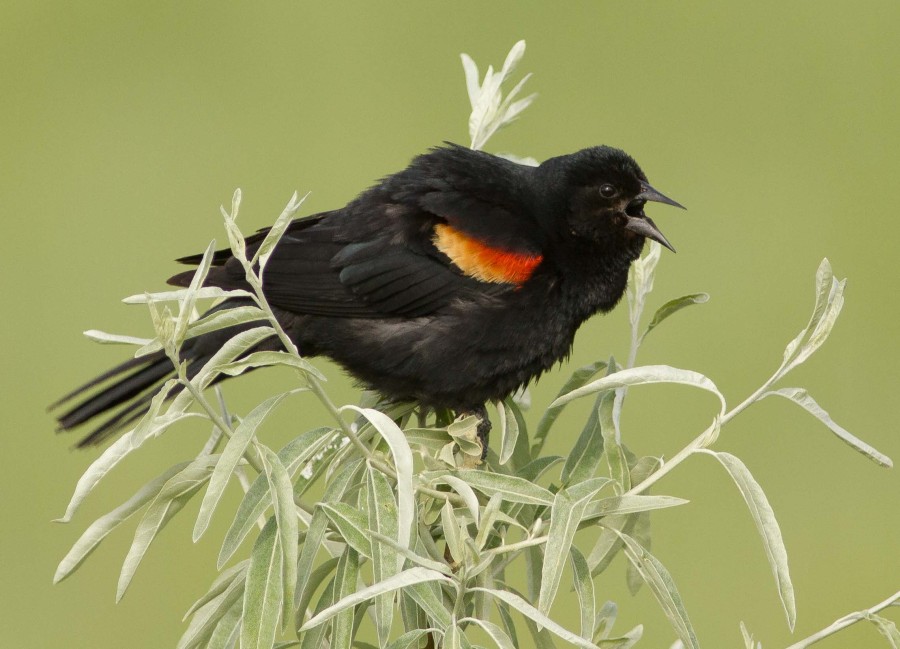 (pic: Red winged blackbird)
Behind the cabin is the West Point Inn, which includes the main receiving area for all guests as well as a living room with a few sofas and a fireplace, and a kitchen where we can cook. Now that we're at some altitude, we are in the direct path of a cold strong wind. We get into the living room area and I go looking for the caretaker to get our cabin key while Heidi gets busy fixing us dinner. The entire place is deserted and were it not for Heidi being around I'd have dared not step into this seemingly haunted place.
Dinner done, we almost have to battle our way through the much stronger and colder wind to get to our cottage. The cottage is basic and has two sections. The first part holds two beds, several blankets and a fire extinguisher. The second section is a small open veranda that includes a spectacular view of San Francisco Bay, including San Francisco, the East Bay, and Angel Island. Looking west, I can see out beyond the Golden Gate Bridge to the open Pacific Ocean. The porch accommodates a small sink and an open shower. The cabins aren't supplied with electricity so the shower is freezing cold of course and we have to use a small lantern once it gets dark. But I'm anything but complaining. The little cabin is perfect and I can see why Heidi went through all the trouble and a large sum of money to book it for us.
We go to sleep early but still miss the spectacular sunrise over the Oakland Hills that Heidi had been telling me about the previous evening. By ten in the morning we've finished all the food, we've carried for breakfast and now are ready to make our way back to the car. Downhill walking is worse for me since it annoys my knees even more. But I'm pleasantly surprised when an hour and a half later we're back at the car and my knees are only just beginning to complain.
Twelve hours later we're refueling the truck at a gas station in Nevada. Over the last few hours on this spectacular drive here tall trees and thick forests have been gradually replaced by an arid landscape with sparse vegetation. The town surrounding the gas station is small and seems cut away from the rest of the world. Once we get back on the road, it soon gets swallowed by the desert surrounding us. There is now not a single light shining anywhere around us and a car or a truck passes us only every ten to fifteen minutes. We are now officially on the "Loneliest Road in America."
The moon is partially out and it faintly illuminates the landscape all around us. It's a beautiful place and I regret that we're going through it in the night when I can neither photograph nor see much of it. But in an hour Heidi is finally ready to stop and she pulls into a rest stop. The rest stop is empty excepting for one massive Mac truck whose engine running is rumbling like a big sleeping animal. Heidi chooses a spot at the opposite end of the big truck and we get into the back of her truck. Her truck is a pickup and is actually perfect for sleeping in. The back portion of the truck is fully covered and almost as broad and wide as a double bed. All we need to do is to roll our thermarests onto it, open out our sleeping bags over the thermarests and we have a perfect little bedroom for the night.
There's only one problem with our little bedroom. It can't be locked. Heidi is nervous about spending the night in a place as remote and lonely as this and the fact that we can't lock this back portion of the truck has her even more worried. She really needs to sleep but she keeps jumping bolt upright for every tiny bit of sound coming from outside the truck. I try to say a few things to calm her down but eventually I think exhaustion gets the better of her and she's soon fast asleep.
I on the other hand keep waking up because the cold is slowly getting to me. Despite having a duck down jacket on and a decent sleeping bag I am freezing. Heidi's sleeping bag can certainly do something that mine can't for she seems snug as a bug inside it. I snuggle up next to her but her sleeping bag is so good it won't share any of her warmth with me! Eventually I duck my head under my sleeping bag at the risk of suffocation and finally get some sleep. When we wake up in the morning the sun is already above the horizon and the rumbling Mac truck is long gone. Despite the sunlight however it is still freezing in the desert. My teeth are chattering so much I almost bite my tongue off trying to brush them!
Back on the road the car heating has us warmed up pretty soon. Being day now I can truly appreciate the landscape all around me. The desert stretches out in every direction and there's nowhere to hide from the sunlight pouring in from all around. The road we're on is long and so straight that at times it appears to disappear into infinity. It seems more deserted than last night with a car or a group of leather-clad bikers on Harley Davidsons passing by only every twenty minutes.
By twelve in the afternoon we've finally reached our destination: Zion National Park in Utah! Heidi is ecstatic. She's literally jumping with joy knowing that we actually made the journey that every friend of hers told us we were raving mad to even contemplate in the little time we had allotted for it. At the Information Center we buy our pass and then inquire about camping in the park. As it turns out all the regular camp sites are full. But there are some back-country camping spots still available. I pretend to be a bit disappointed to sympathize with Heidi but secretly I'm happy that the regular camp sites aren't available. First of all the regular sites cost about three times more. This isn't surprising since the regular sites offer toilets and free showers. Secondly the regular sites (as we find out when we pass one later) are jam-packed with RVs, cars, tents and people setting up barbecues. Definitely not the kind of camping I'm looking for!
Back country pass purchased, we enter the park. My jaw drops at my first view of Zion National Park. It's unlike anything I've ever seen before. Monstrous mountains, rock formations and steep cliff faces abound all around us. The sparse vegetation hides little from the sun, which seems to have burnt the exposed skin of the mountains into different shades of red brown. The park is obviously well-known and extremely popular, since there are plenty of other people driving around as well. As we follow the winding road that climbs and cuts through the mountains, we are soon in a long queue outside a tunnel.
"Yep. We certainly do love our National Parks to death," says Heidi as she switches off the truck engine.
But it's just the main road that is crowded like this. Once we're off it we're soon by ourselves again. Heidi follows the directions on the map we've picked up at the information center, which gets us to a deserted parking spot. From here it's a two-mile hike to our camping spot. Unlike the trek to Mt. Tam, this time we need to be carrying the tent and a big jug of water as well. But the going is easy and mostly on flat ground. Our trek takes us through some pretty and well-wooded countryside.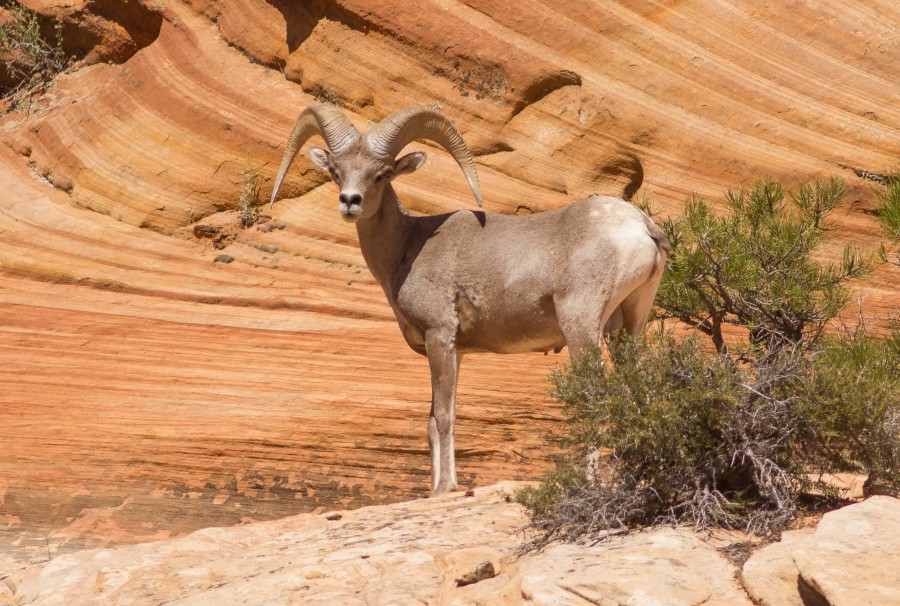 Thirty minutes into our walk, Heidi suddenly grabs my shoulder and pulls me back. "Snake, snake, snake," she's urgently pointing at a small bush on the ground. I see the foot-long snake, which is trying to make a quick getaway into the deeper recesses of the bush now that it's been discovered by us. Judging by its shape and pattern I suspect it to be nonvenomous but I can't be sure so I grab a dry stick and carefully maneuver it out of the bushes.
The little reptile is not pleased at all and strikes with some gusto at my stick. I coax the snake onto a log of wood and then ask Heidi to hold one end of the log while I photograph the snake. Heidi is incredulous at my request and it takes a fair amount of convincing on my end for her to realize that I'm serious and really need her help. I get my shots and then release the snake back into the bushes. We text one picture to Zeev in Los Angeles immediately for identification. "Gopher snake…nonvenomous," comes the reply.
Our walk eventually brings us to a cliff edge overlooking a beautiful canyon. The mountains on the other side of the canyon are different shades of color from each other. Some are peach, others toffee brown and the one closest to us is cream white. It's a spectacular spot and Heidi and I can't believe that we have the whole place to ourselves. The sun is now about to drop behind the mountains so we ditch our bags and sit to enjoy a last view of it bathing everything around in yellow light. Surprisingly, the moon is out too. Perhaps that's because it is now almost nine in the evening! This is the month of June and the long days are a real boon.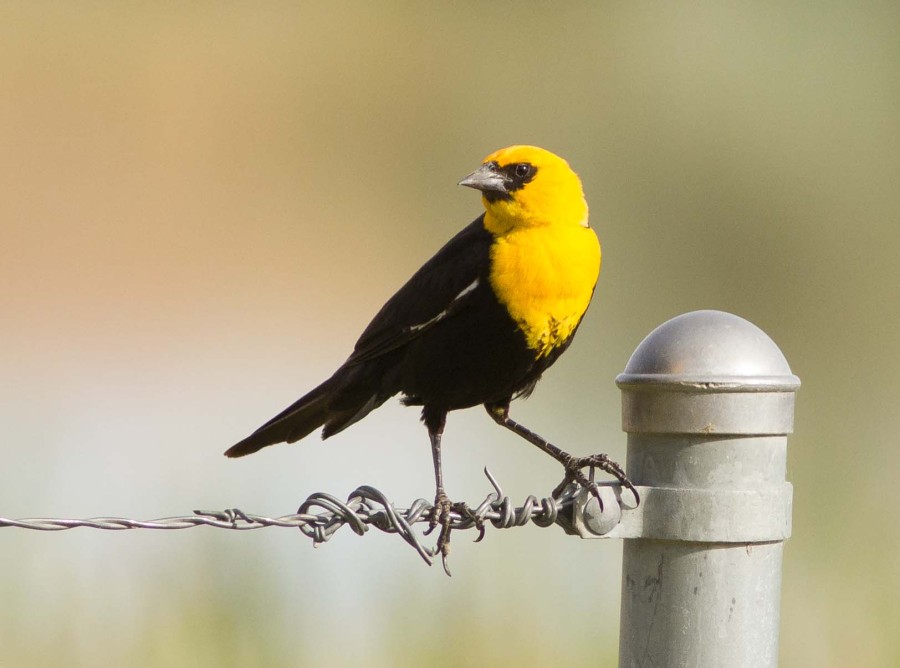 (Pic: yellow headed blackbird)
Once the sun is gone we quickly set up the tent in the fading twilight. There's a strong wind here so we ground our tent strategically behind some bushes that will hopefully serve as a decent wind breaker. With the tent set up we walk back the twenty meters to our view point at the cliff edge to enjoy the moonlight. The moon is nearly full and we have no need for our torches to find our way around to a nice big flat rock to sit on. Our spot is perfect and we could sit for ages enjoying the view of the canyon in shadow and the faintly illuminated mountains rising all around it. But two stupefyingly bold mice have discovered the sandwiches we have with us and they are actually attempting to steal them out of our hands! We have no choice but to eat our dinner immediately. Sandwiches done, we are soon sleepy. It's also fairly chilly now so we head back to our tent.
When we wake up the next morning the sun is already shining bright enough to make us squint outside the tent. It's also getting hot quickly so we pack the tent and start our trek back to the car. By the time we're back at the car it is 11 am. About four hours later we are at Bryce Canyon National Park. It's the weekend today and therefore no surprise that Bryce Canyon is just as busy as Zion National Park yesterday. All the campsites are full. But we couldn't be bothered much. Heidi and I have both gotten a taste for back country camping now. So we register ourselves and pick up our bear proof container. It turns out that black bears often raid camping sites for food and considering that they have such a keen sense of smell, everything and anything must be placed in an airtight container.
Bryce Canyon National Park's unique feature is a collection of giant natural amphitheaters called the Hoodoos. These Hoodoos are chimney shaped geological structures formed by frost, water and other natural elements that constantly weather the landscape. Heidi stops at the first and biggest hoodoo and I get some shots of this beautifully bizarre landscape. The colors of these hoodoos are just as varied as those of the mountains at Zion and they make for some very interesting photography.
We drive and stop along the way to view more hoodoos and eventually come to the end of the road. Heidi's chosen a back country campsite that is about three miles from the parking lot. Its now almost seven in the evening so we need to start our trek soon if we are to make it to the campsite before it's completely dark. Heidi figures that it is best we eat our dinner in the parking lot and our breakfast when we come back next morning. That way we won't have to lug the bear container around on the trek.
"What're you doing?" she exclaims when she sees me about to spray my armpits with a deodorizer.
"But I'm not going to smell all that great at the end of a three mile trek, Heidi."
"The bears, Rahul…the deo is probably as bad as the food! Don't you realize that? I will deal with your smelly self in the tent for one night, OK? Don't you worry!" She's reassuring me with sly smile.
The first mile of our trek is down a steep slope cutting through a well-wooded area. Heidi walks ahead of me but constantly stops to check on how my knees are holding up. They are actually doing great despite the fact that I've already walked almost two miles just this morning. I remind Heidi of this fact and she tells me she's extremely proud of the fact that I've managed to get this far!
After the first mile the path levels out a bit and then drops down a steep slope again. By now we've been walking for perhaps an hour and a half. I am convinced that we've done more than three miles so far but Heidi says we're probably nearing two!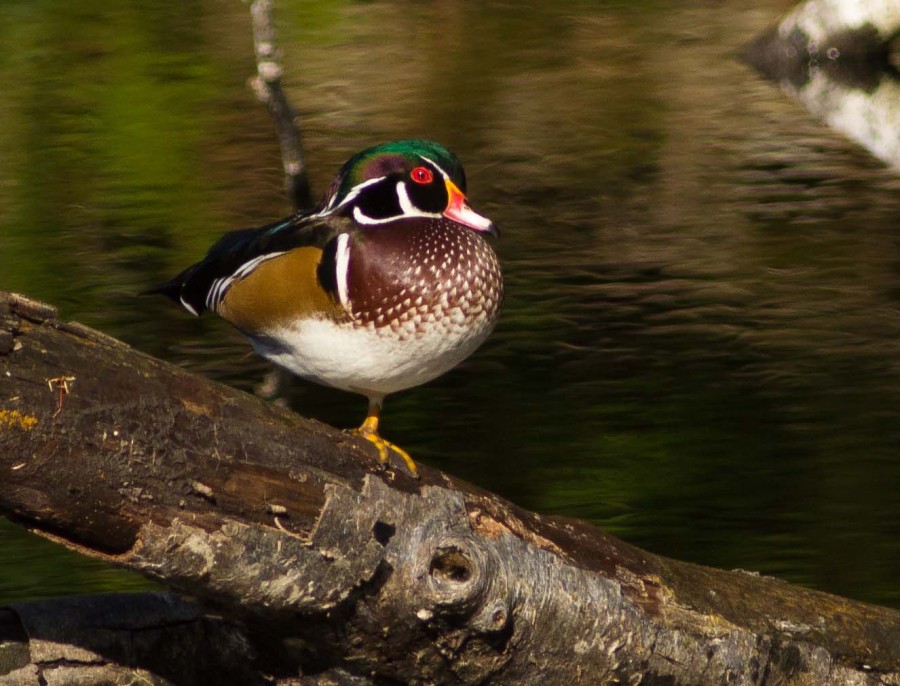 (pic: Wood Duck male photographed in the Olympic National park Washington)
Our path down the steep slope suddenly pops out to overlook a vast and beautiful canyon. The view we have is breathtaking and by my standards this is a great place to set up tent for the night. Heidi is concerned that we aren't at the designated campsite as yet and would therefore be illegal camping in this spot. But it's nearly dark now and she seems to realize that it might not be all that wise to push her luck with my now slightly trembling knees.
So we set up tent in the fading light and then find ourselves a spot on a cliff edge to enjoy a view of the vast canyon bathed in silver moonlight. Despite some twigs snapping and scrunching sounds around the tent in the night no bears bother us. When we wake up in the morning, the sun has already been out for over an hour. We pack our tent, drink the last of our water and start our hike back up to the parking lot. My knees are doing great and considering going uphill is never a problem for them I'm in high spirits all the way to the top.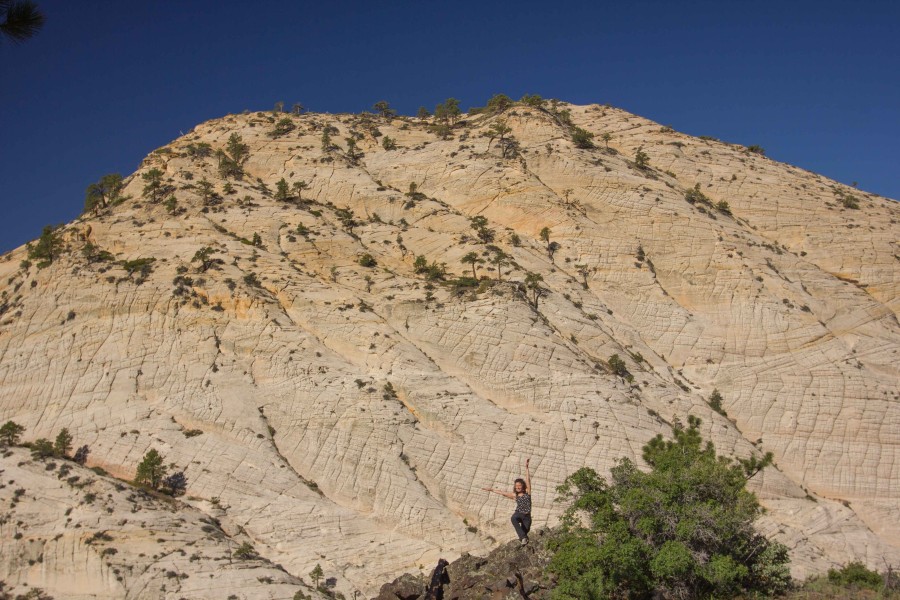 (Pic: Bryce Canyon national park)
Breakfast is whatever is left over of our food. And then starts our journey back home. But we aren't going to take the same route back home. This time we take the interior roads as opposed to the coastal route we took getting here. Heidi never fails to amaze me with her capacity to go on driving. By early evening we're at Salt Lake City. Heidi continues driving till midnight and then it's another night in the back of the truck. By seven p.m. the next evening, we're back in Eugene.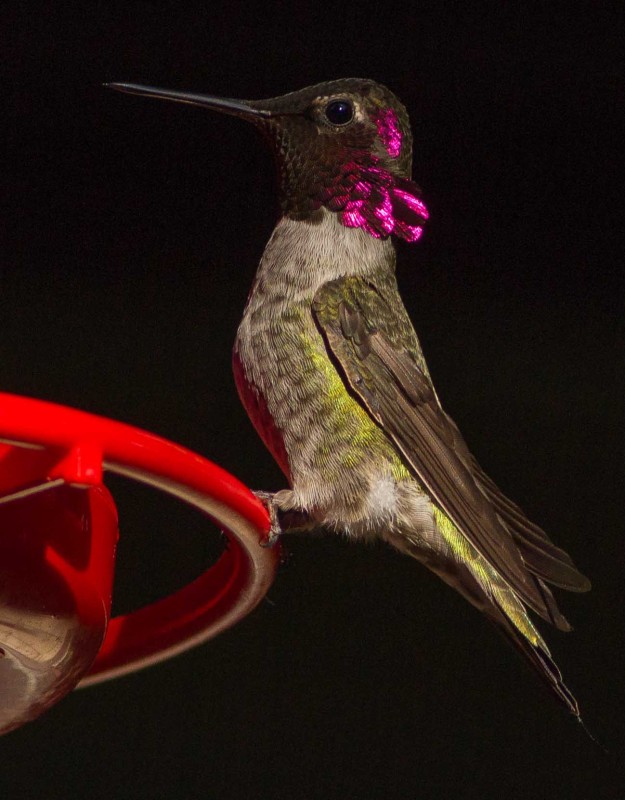 (Pic: Anna's hummingbird photographed outside Heidi's house at her neighbor's birdfeeder)
We've done almost 3000 miles in total in a week, and despite the premonitions and worries of Heidi's friends, we've had a splendid time. Heidi looks exhausted but she has a big smile on her face.
"We did it!" she exclaims with glee as we pull into her parking lot. I figure that she's saying we didn't just survive the road trip but we survived each other too. When Heidi and I first started talking about traveling together, it had never crossed my mind that we might simply not get along. After all, Heidi is a vegetarian and a disciple of cleanliness while I am happy with my meat and have no qualms wiping my hands on my pants! I realize I've taken us getting to be as thick as thieves on this journey totally for granted.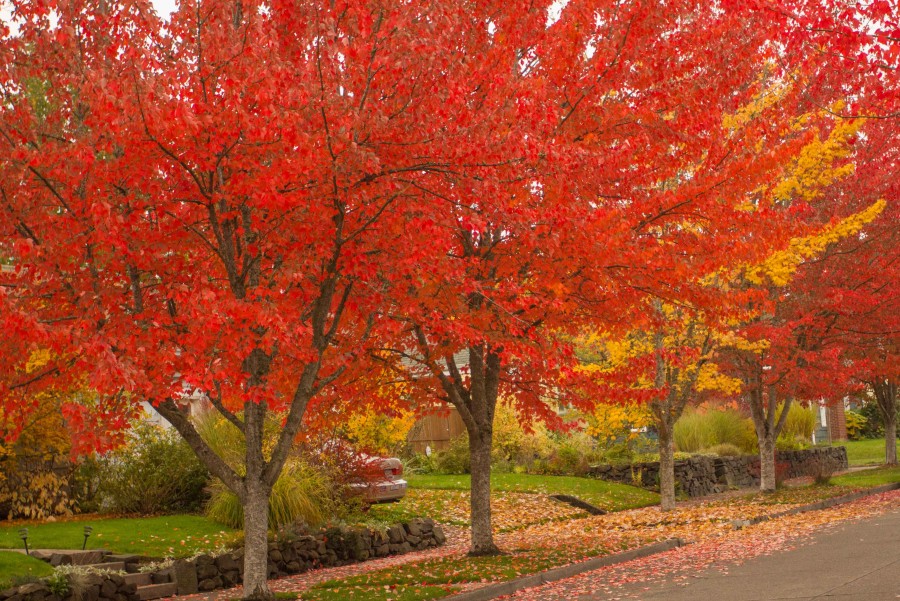 (Pic: Eugene in Autumn)
In the parking lot Heidi turns off the ignition and we sit quietly in the dark. Neither of us wants to get out of the car.
"I feel sad that our road trip is over," she breaks the silence finally with a soft voice.
I'm sad too. But I have a feeling that this isn't the last road trip we will do together. Three months later I will be proved right when I will return to Eugene and Heidi and I will do road trips to Crater Lake, the Olympic National Park, and Mt. Saint Helens. But that's another story altogether. That's far into the future. Right now it's the simple pleasures of a warm bath and a cozy bed awaiting the two of us!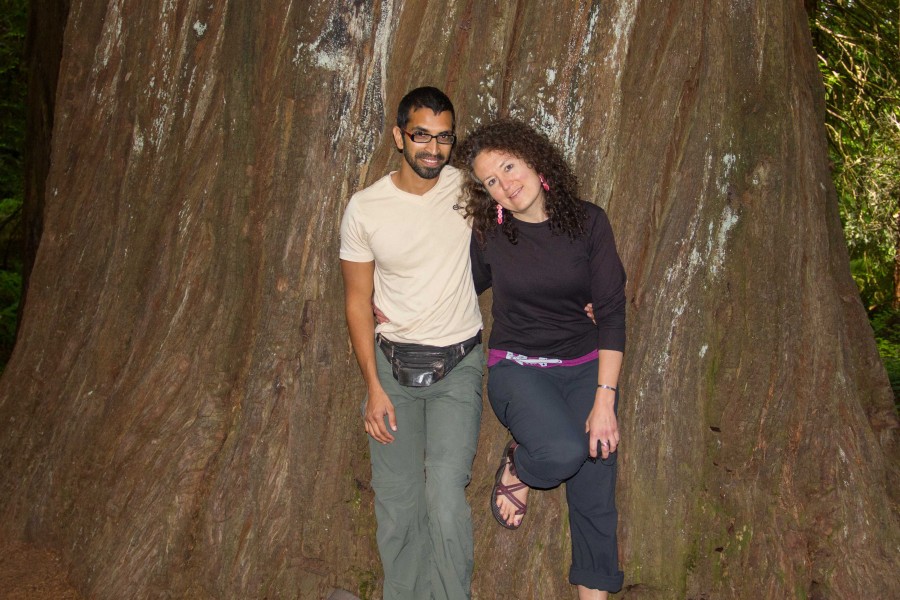 (Heidi and me at the California Redwood forest)