For high res images click on the pictures themselves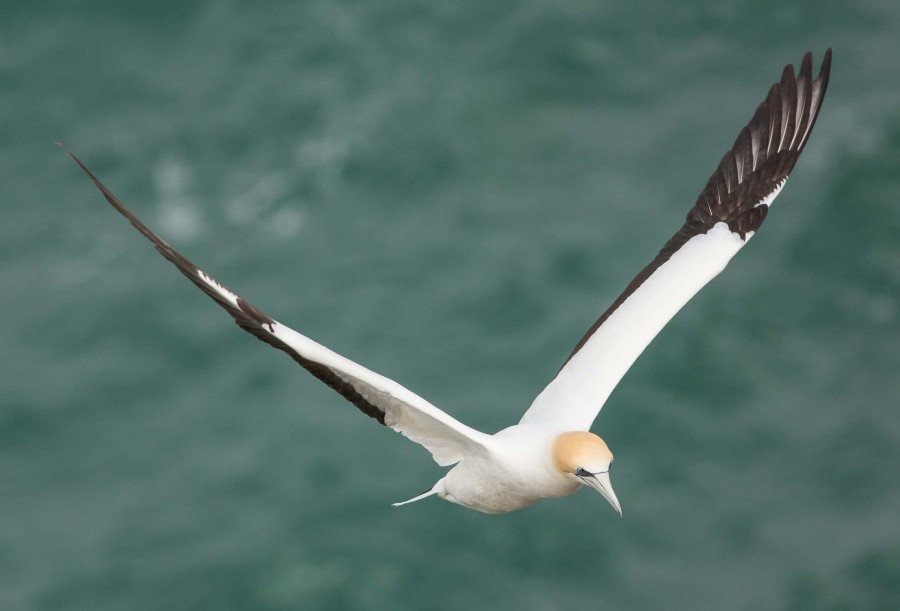 It's six in the morning and yet there's a surprising amount of traffic on the road to Auckland city.
'Oh don't worry about that, you'll see plenty of deserted places once you move outta this area' reassures Issac. He's a nephew of Tania. And Tania is a Maori woman who my father met at a conference two days before I left for Australia. It had all happened so fast.
I had been introduced to Tania over the internet and she had immediately replied to my mail offering me a place to stay. By the time I landed in New Zealand she had even organized Issac picking me up from the airport and taking me over to his parents house. A big relief for me since my flight had landed at twelve in the night and my only option otherwise was to spend the night at the airport!
Now, less than five hours later, I'm back in the car with Issac hitching a ride into the city. Issac has to work and I have to make it to the jetty in time to catch the only ferry ride for the day to Tiritiri Matangi Island.
'Here's some money' says Issac as he shoves twenty New Zealand dollars into my hand. 'For some reason if you have trouble with the money changer I don't want you wandering the streets looking homeless' he laughs.
This trait of being kind to almost total strangers seems to run in their family as I will find out over the next few days I spend with them.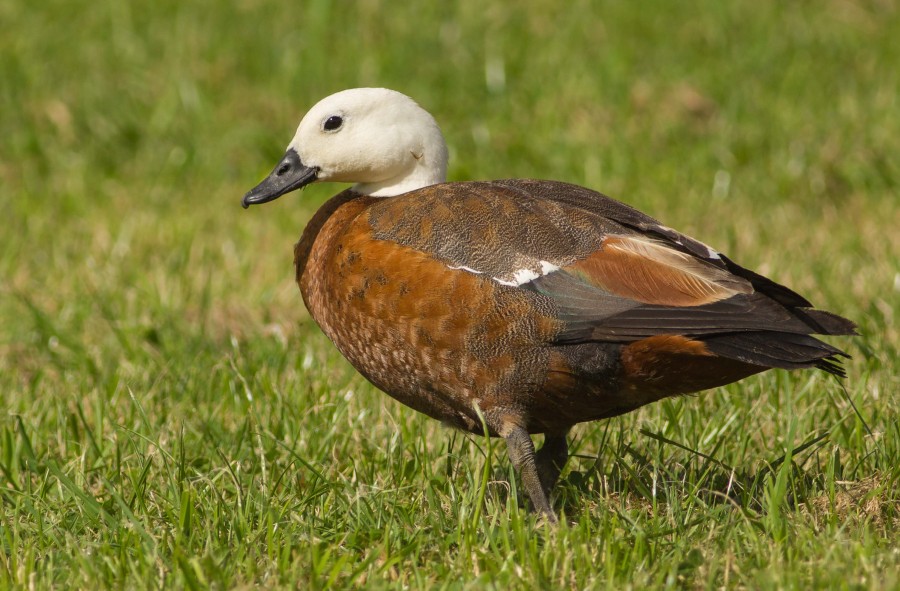 (Image: Paradise Shelduck female)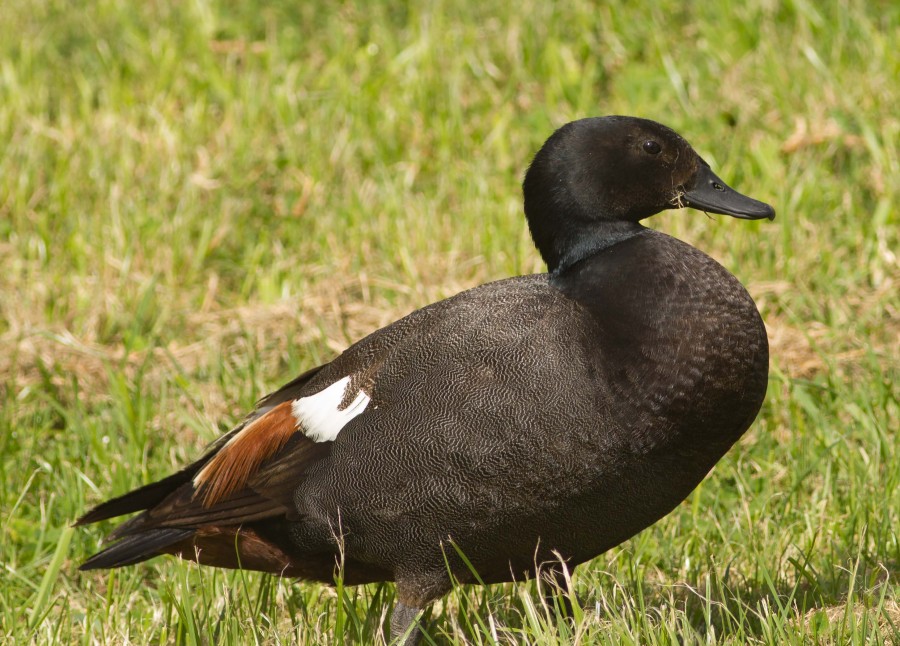 (Image: Paradise Shelduck male)
Auckland on 2nd November 2012 is grey, cold and actually quite lovely. The main city has tall and nice looking buildings. To a villager like me everything looks slick and modern.
At the jetty I buy some water from the supermarket and then buy my ferry ticket to the island. A friendly guide inspects my shoes to make sure I have no dirt sticking to them and my food bag to make sure everything is sealed and that I'm totally rodent free.
No the inspection has nothing to do with the way I look. It's a routine check to make sure I won't infect the island with any pest or predator that will endanger its local flora and fauna.
Tiritiri Mantangi is the pride of all the staff and volunteers that have worked and continue to work on it. The project to restore it started in 1984 and over ten years volunteers planted over 300,000 trees to reforest this 220 hectare island which for the previous 120 years was stripped clean for farming. By 1993 the polynesian rat was eradicated off the island and then began the slow process of reintroducing threatened bird and reptile species.
Today I was going to enjoy the fruits of someone else's labour. The ferry ride to the island takes the better of an hour. I spend my time dozing and shivering at the same time in the much warmer cabin inside. But by the time we reach the island it's sunny, warm and not grey anymore.
The island is beautiful and very green. About fifty odd people get off the boat along with me. Half of them look like pensioned couples from around the world. The other half is made up by a bunch of local school children along with two or three caretakers. I'm the only one who's in his thirties. And definitely the only brown face around.
After a short introduction by a volunteer we're split off into two groups. Each group takes a separate track into the island. I follow my group for a while and then realize that I'd probably be better off on my own if I want to try and get some bird shots.
The island is hilly and dense with vegetation. I hear strange bird calls unlike any I've heard before. After a while I can't even hear the school children anymore and I'm enjoying being alone. Eventually I find a bird feeder and squat five meters away from it. The feeder is a wood and mesh box perched four feet off the ground. It's a cage with a small opening running along the bottom of it – the only way for any bird to move in and out.
In the shade of the thick canopy the light is miserable for photography. I bump up my ISO to a daring 1600 and steady my camera against my knee. Stich birds and Bell birds are popping by all the time for a sip and a peck. At times there's a feeding frenzy. The birds seem annoyingly high on sugar and that doesn't help considering the very low shutter speed I have to make do with.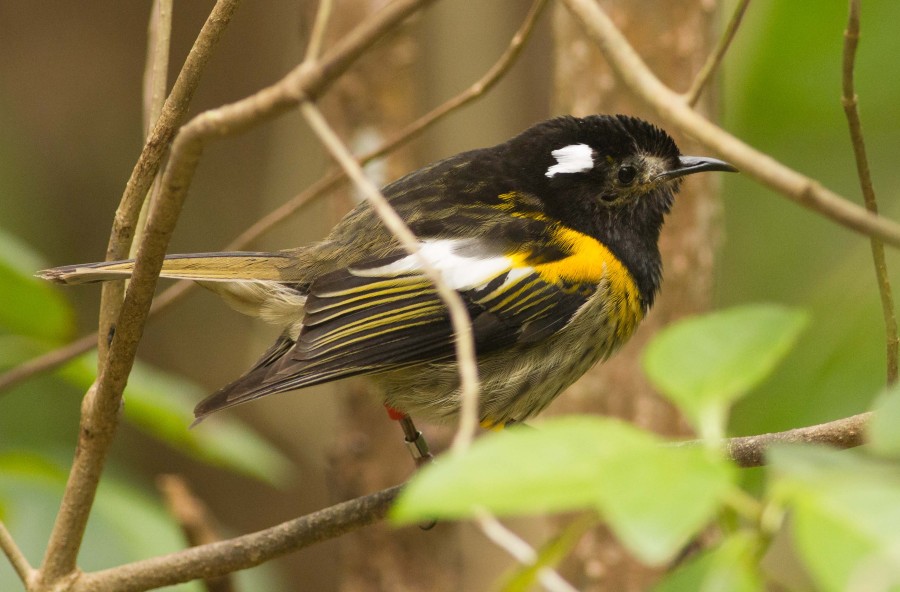 (Image: stitch bird)
Eventually though I've got atleast some usable shots of the Bell bird and the Stich bird. Further ahead at another feeder I get a Tui which to me looks like a sunbird but the size of a small crow! The Tui is interesting looking being irridescent black with two small white puffy feathers on its chest that definitely look like they were added on after the bird was made!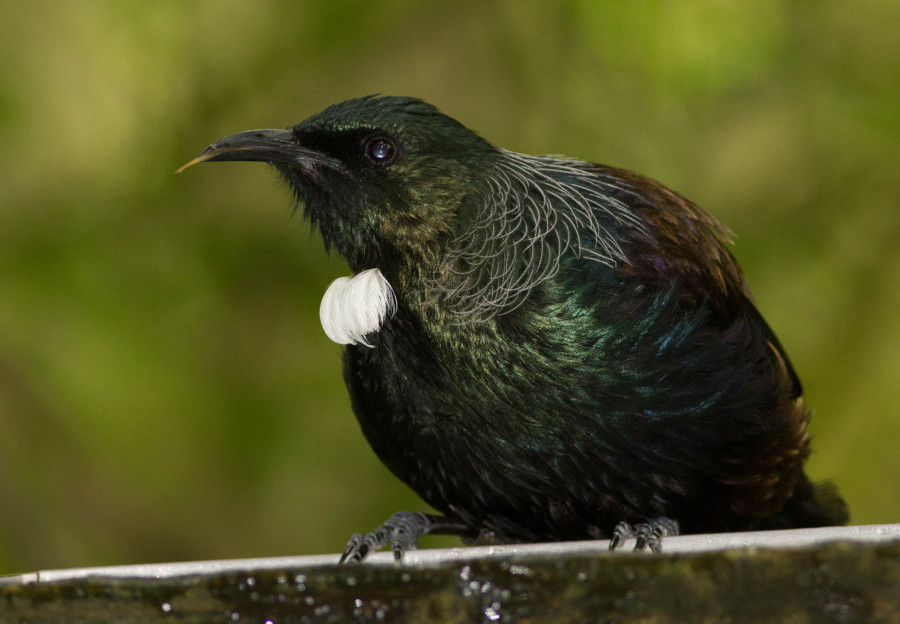 (Image: Tui)
For a while I try to get shots of the Saddle bird but they aren't one bit cooperative so eventually I give up and walk out of the forest. I follow the coastline back to the jetty. It's a good idea getting out of the forest since I use the time to get pretty good shots of White heads, Sooty Oyster catchers, and Black backed gulls to my collection.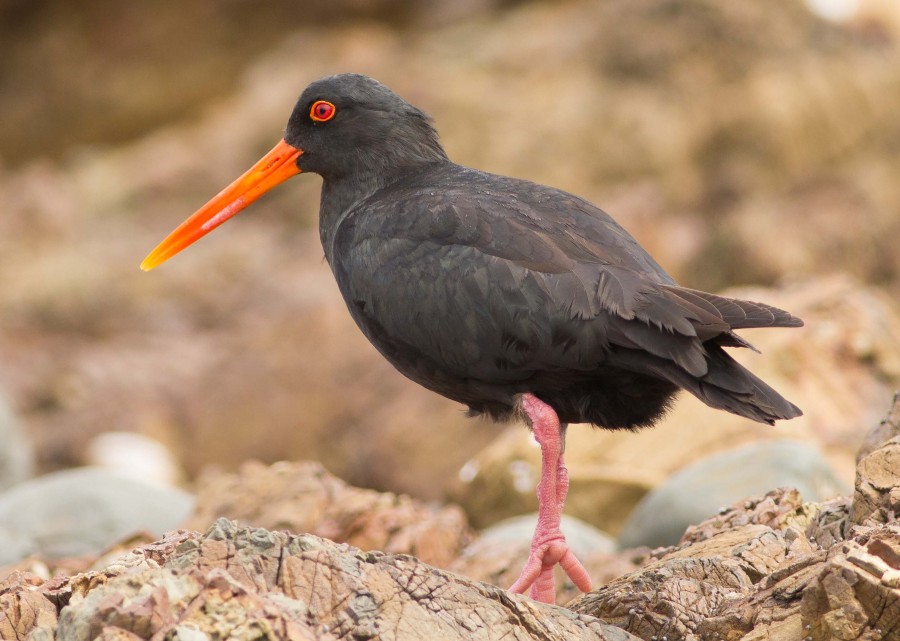 (Image: Sooty oyster catcher)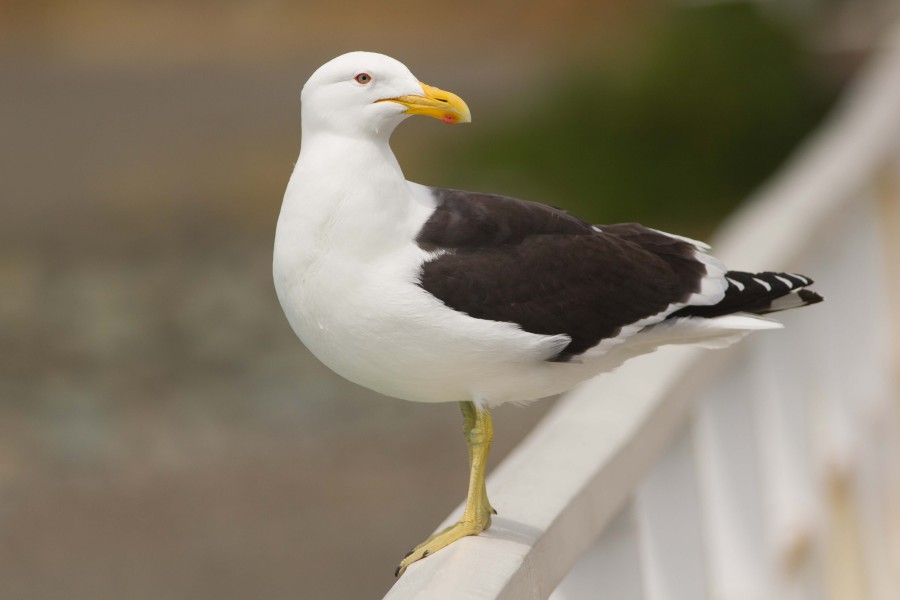 (Image: Black backed gull)
At seven in the evening I meet Tania at the jetty. She and her husband Wikuki have come to pick me up in their big car. Tania gives me a big hug like she hasn't seen me in ages and Wikuki shoots me a mischievous eye while he shakes my hand.
'You recognize this?' he asks me grabbing onto a colourful cloth wrapped around his waist.
'It's a lungi man. Your father was wearing one and I loved it. The only trouble is I never can find one big enough to go around me.' he laughs
I hesitate to tell Wikuki that with his bulk, towering height and long curly hair a lungi could never look like anything more than a war dress on him.'Let's go find some food' he says turning his head back at Tania.
Then he shoots the same mischievous twinkling eyes at me 'We're big people Rahul. We need to eat a lot!'
Back home I meet with Tania's sister Rachael and Jim her husband. It's strange for me to introduce myself to someone after I've already spent a night at their house and raided their fridge without permission in the middle of the night!
Theirs is a fun home with everyone relaxed and laughing. For dinner I gorge on chicken and potatoes and then eat ice cream till my stomach begins to hurt.
The next morning I have arranged with Nelson and kara to take me to the famous Gannet colony at Muruwai beach. Nelson is the brother of a friend of mine from Goa. He's been suggesting this trip from before I booked the tickets to New Zealand. I figure it might be interesting. That turns out to be an understatement! Nothing has me quite prepared for the sight of hundreds of birds nesting on the steep cliff face in front of the beach.
The best part is that we are able to approach the birds from a point higher than where they nest and this gives us a spectacular view of the entire colony.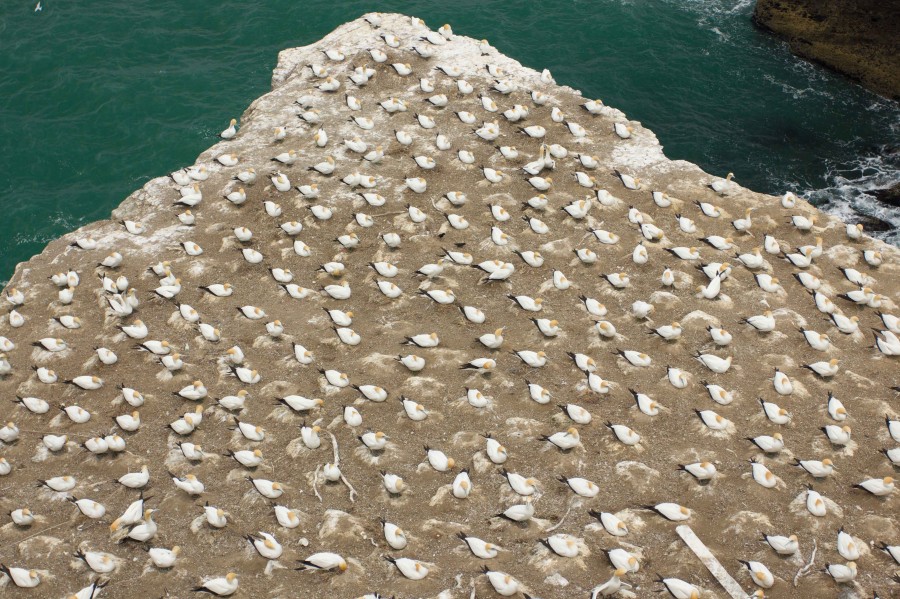 (Images: Colony of Gannets)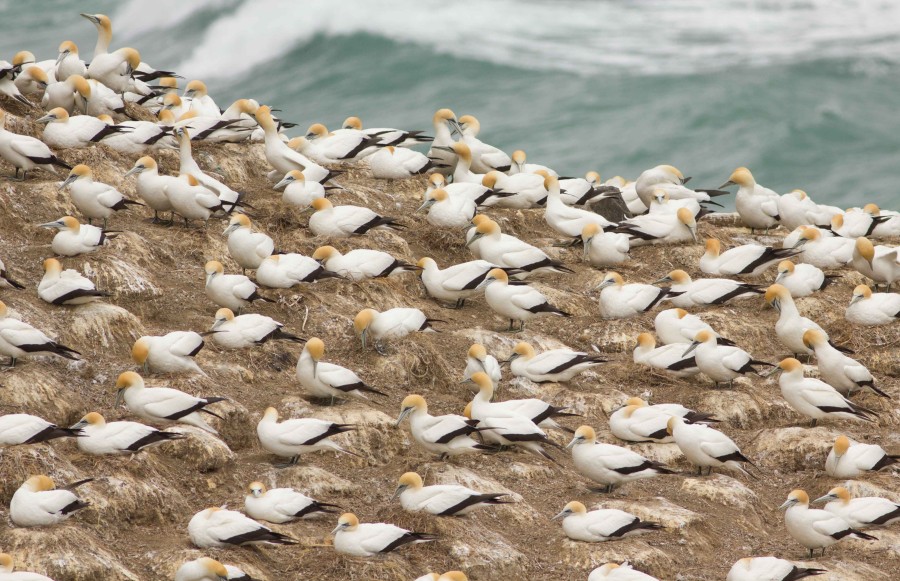 Over the next two hours I go bezerk snapping pictures of these magnificent birds. They have a blue circle around their eyes and comical looking beaks. On land they seem ungainly but when they take to air they are the epitome of aerodynamic control.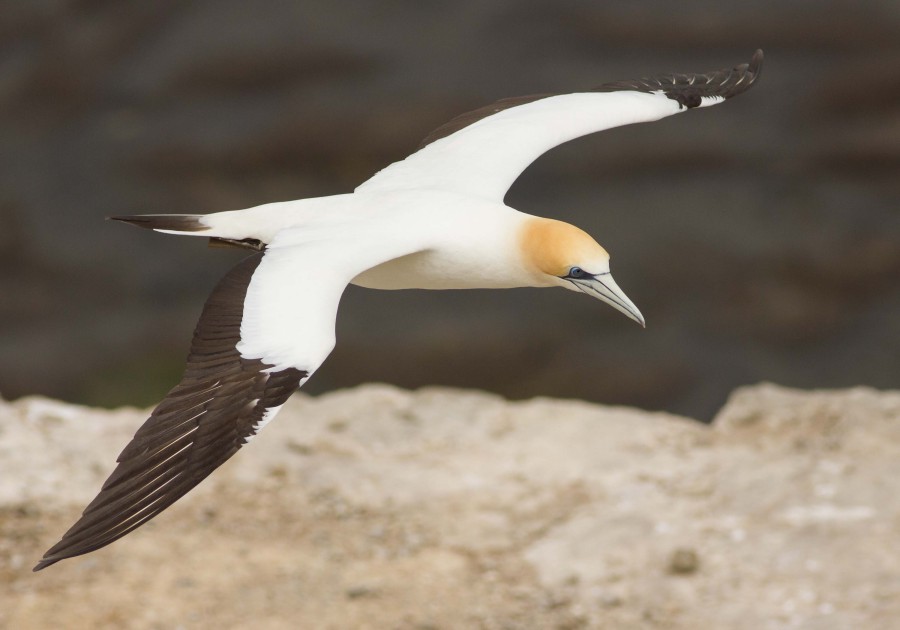 Flight shots of birds are generally hard to get since most birds in flight are most likely to be above a photographer. In a situation like this you are usually shooting against a sky that's brighter than the bird. The underside of the bird's wings also seem to be perpetually shaded which further reduces the chances of getting a decent photograph of it.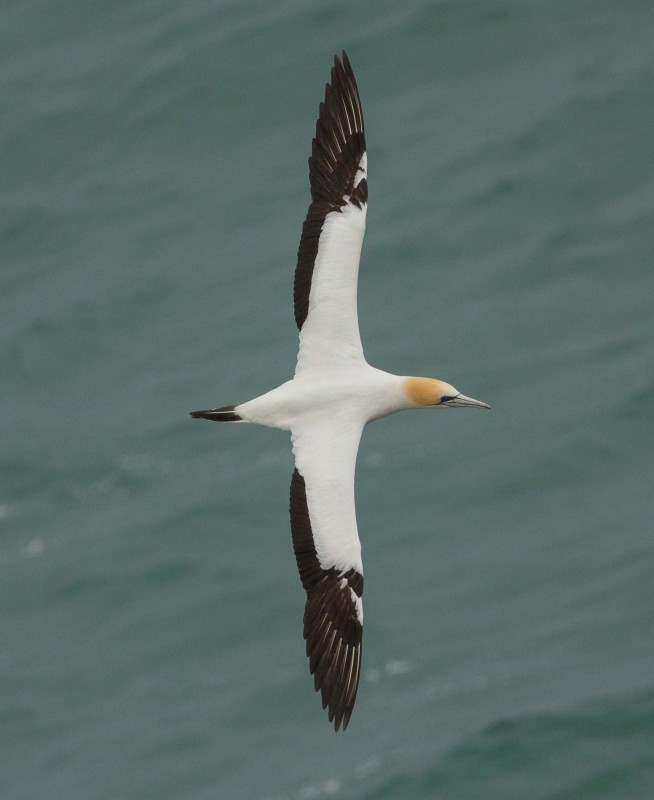 But being at the top of the cliff I have none of these disadvantages since most of the birds are flying at eye level and below me. I have a field day getting shots of them flying, diving, and gliding on the cold wind blowing in. I'm so engrossed with the birds that only after a while do I notice that Nelson, who has by now wrapped himself up to look like an eskimo, is shivering away. Finally a drizzle blows in and puts an end to the shoot.
The next morning I head out with Tania and Wikuki on what turns out to be a food and fun drive to Hamilton. Our first stop along the way is to have breakfast with Tania's son. Next it is lunch with her parents, then a swim at an indoor heated pool and an hour later another stop for a second lunch.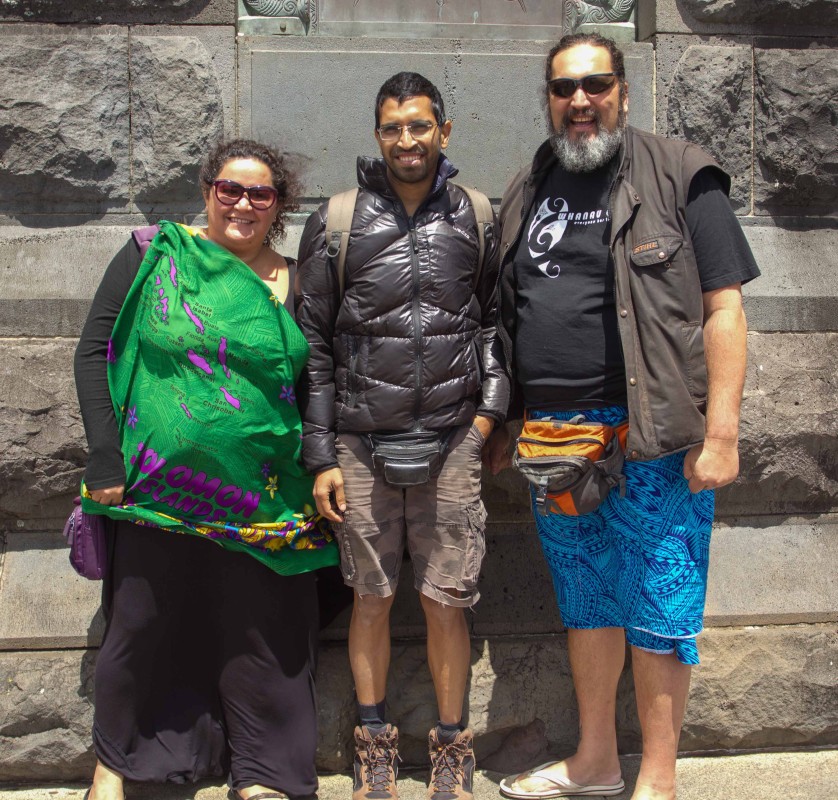 (Image: Tania, Wikuki and me)
When I ask Wikuki if two lunches a day is a regular feature in his diet he denies having had lunch at all.
'This, Rahul…is simply a small snack' he explains as he chows through a large chunk of lamb chop.
'What about the earlier meal?' I ask him
'Oh that? That was just a cuppa…a cuppa tea Rahul!'
I decide not to bring up the copious quantities of bread, fish dip and cheese we all gorged ourselves on while sipping on our 'cuppas'.
But it isn't just fabulous food and family reunions that we stop for. Wikuki and Tania also take time out to show me around some interesting places and projects that they've worked on. One of them is an impressive seventy feet high totem called the "Pou Kapua Taonga". The Pou Kapua is a Maori/Pacific Indigenous cultural arts project and carved from a magnificent ancient Kauri tree from the forests of the Iwi of Te Rarawa. I get Wikuki to pose with it!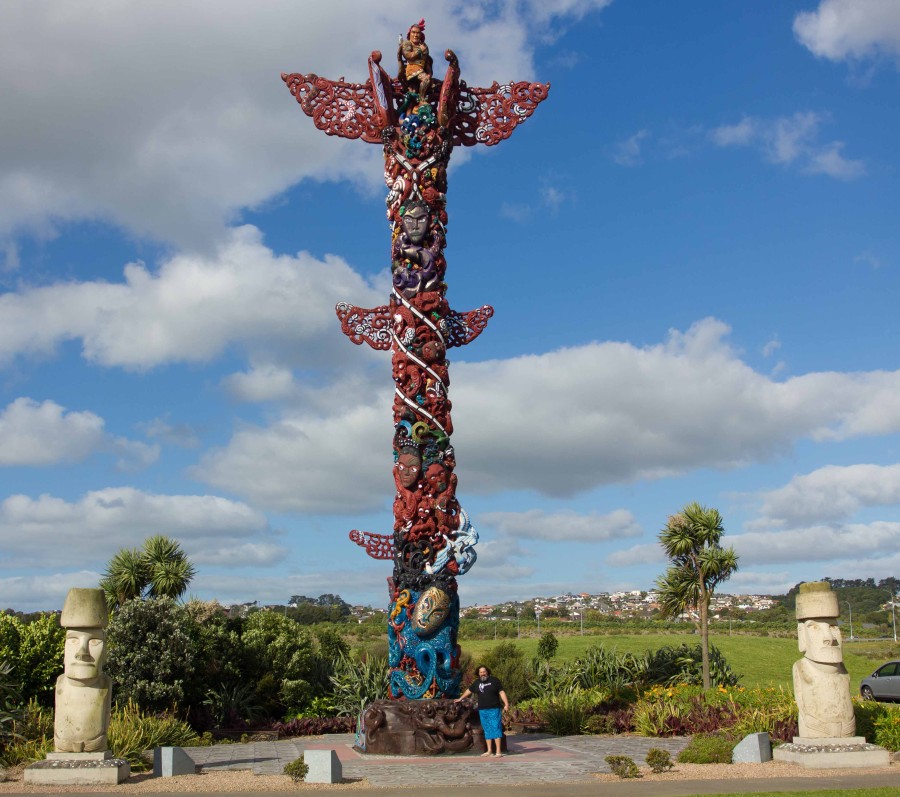 The next morning I meet up with Clive who like Tania is almost a complete stranger to me (my only connection with him is a mutual friend back in India). But he is still the person who made my New Zealand trip possible – his invitation letter was the key to me getting my visa to New Zealand.
We move around in his small beat up car and by the end of the evening thanks to him I've seen quite a bit of Hamilton city, the Hamilton gardens and even managed a board walk in an old forest.
Clive is still interested in showing me more but my feet are killing me by the end of the evening and we return home.
I will stay with his friend Jane in her fabulous house in the countryside. Clive himself lives in the trailer parked outside! The next morning I'm on a bus to Rotorua. From now on for a while atleast I'm going to be on my own. It isn't as adventurous as it sounds though for I carry some sandwiches and a box of cookies organized by Jane, and tickets for my stay and onward journey from Rotorua that Clive helped me book the previous evening from the information centre in Hamilton city.
I have a seat number allotted to me on the bus but I might as well sit where I like since about three quarters of the seats are empty. This will turn out to be a fairly regular feature while traveling on buses in New Zealand and it will take me some used to getting coming from crowded India!
The journey to Rotorua is picturesque. On the way we pass by Matamata which is the stop for all travelers visiting Hobbiton (the set for the hobbit village from the movie trilogy The Lord of the Rings). It is exciting for me to know that I am so close to where this famous trilogy was filmed. But the price tag of 90 dollars for a guided tour of the place has me realizing that I'd rather watch the movie again instead!
Rotorua turns out to be a small town and everything seems within walking distance of each other. I pass by a number of travel agents selling bungee jumping, sky diving, white water rafting and other adventures. I won't be signing up for one of these though as I already have a short day trip booked to Wai-O-Tapu (Rotorua's hot spring wonderland).
An hour after I have put down my rucksack in the dormitory of my hostel my guide arrives. She is a middle aged woman and quite chatty and friendly. Though I am the only person signed up for the day she makes a short detour off the regular tour to show me a bit of Rotorua town as well.
The town of Rotorua rests on volatile geothermal land and it is amusing for me to see smoke and steam rising from the ground right in someone's backyard! Inhabitants, as my guide explains, are often forced to move when a hot geyser erupts right in the middle of the dining room!
Wai-O-Tapu lives up to its name of being a hot geyser wonderland. I follow my guide along a track that takes us around massive craters in the earth. At the bottom of each crater is a slurry like quicksand bubbling away and spewing clouds of white smoke into the air.
But unlike quicksand which simply comes in shades of brown the slurry at the bottom of each crater here comes in a different and very striking colour. The colours are indicative of the mineral elements mixed within them. Green comes from colloidal sulphur, orange from antimony, black from sulphur and carbon, red-brown from iron oxide, yellow-primrose from sulphur and white from silica. I particularly love the orange-yellow colour of the Champagne pool and the custard yellow of the Devil's bath. My guide points out gold deposits on the edge of the Champagne pool which is 62 meters wide and 65 meters deep.
We don't get a chance to linger around too long as thick white clouds from the lake are constantly billowing towards us and enveloping us in a hot choking scent of Hydrogen sulphide (which smells much like rotten eggs!)
The next morning I am back on the bus and now on my way to Wellington (the southernmost point of New Zealand's north island). It's a long journey made very interesting by beautifully changing landscapes, sunny weather, and flocks of sheep grazing around parts of the countryside.
Approximately eight hours later I've reached Wellington. Unlike Rotorua, Wellington is a small city. My dormitory is located some distance away from the bus stop and I'll need to walk for a while to get there. As the sun drops below the horizon a cold wind blows in and I make haste. But I'd needn't have worried as I am stopped and offered help and advice two times by residents walking past me. People are extremely helpful and come to my aid simply for looking a little lost!
My backpack in the dormitory I get out of the hostel and walk around the city for a bit. It's cold now but the city is quite lit up and very alive. For dinner it's a burger at Mcdonald's. Despite my worry that I might oversleep I wake up in time for my bus to the main jetty. The bus which stops right outside the hostel takes me to my ferry which will take me from Wellington across to Picton.
The Interislander ferry as it turns is a massive ship. It will transport across not just people but tens of cars and trucks. The big boat has about five levels. The lower most are the parking lots. Above them is the seating area. The top two levels house the restaurants, casinos and lounge areas. Right on top is a large open air seating area. I decide that this is where I will sit and hopefully catch some interesting birds in the process. But when the big boat starts moving it catches a freezing wind and after a while I just give up and retreat into the warm and cosy lounge area.
About three hours later we are getting into the Marlborough Sounds which as Wikipaedia describe are an extensive network of sea-drowned valleys created by a combination of  land subsidence and rising sea level.
As the big boat maneuvers the channel cutting through green mountains on either side I am treated to some spectacular scenery. By the time we dock at Picton I have some real poster material!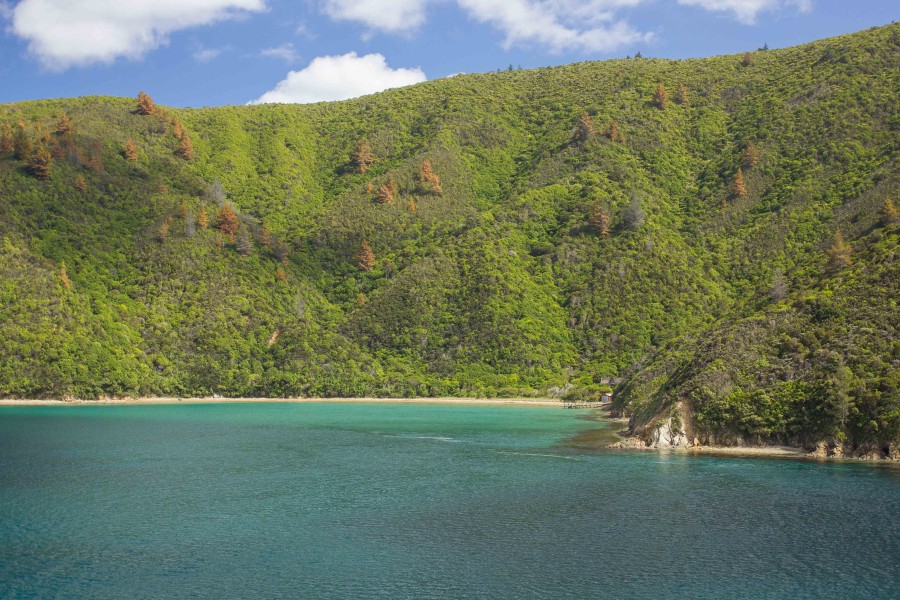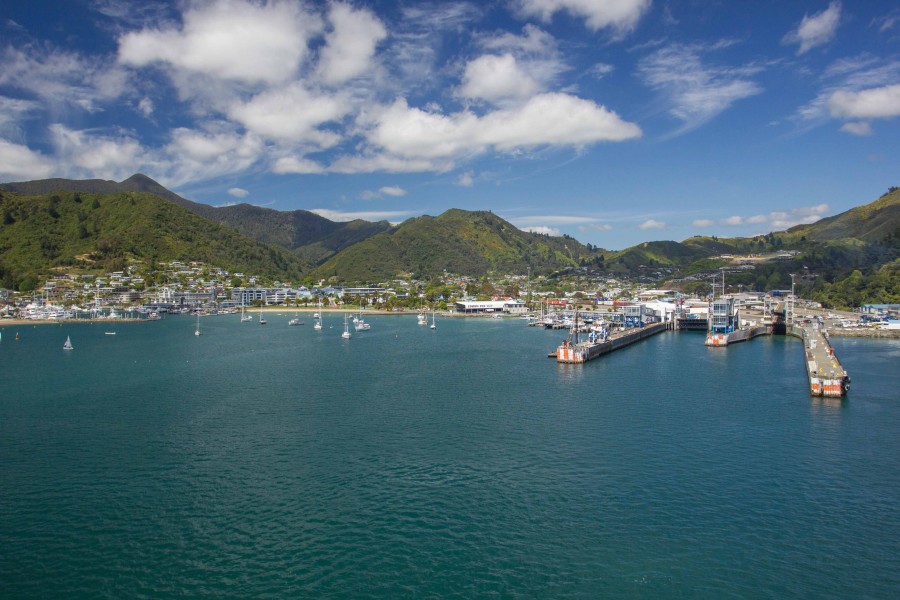 Two hours later it's another visual feast on my bus from Picton to Kaikoura. The bus weaves through chains of mountains some of which are bright yellow with the blooms of wild flowers. Every fifteen minutes the bus pops out of the mountains without warning and then runs parallel to a gorgeous coastline before suddenly dashing back into the mountains again.
At one bus stop I capture snow capped mountains and an azure blue ocean in the same frame. I remember how some visiting New Zealanders once told me that one could be skiing and surfing here in the span of a couple of hours. In the light of what I was seeing that didn't seem so far fetched anymore!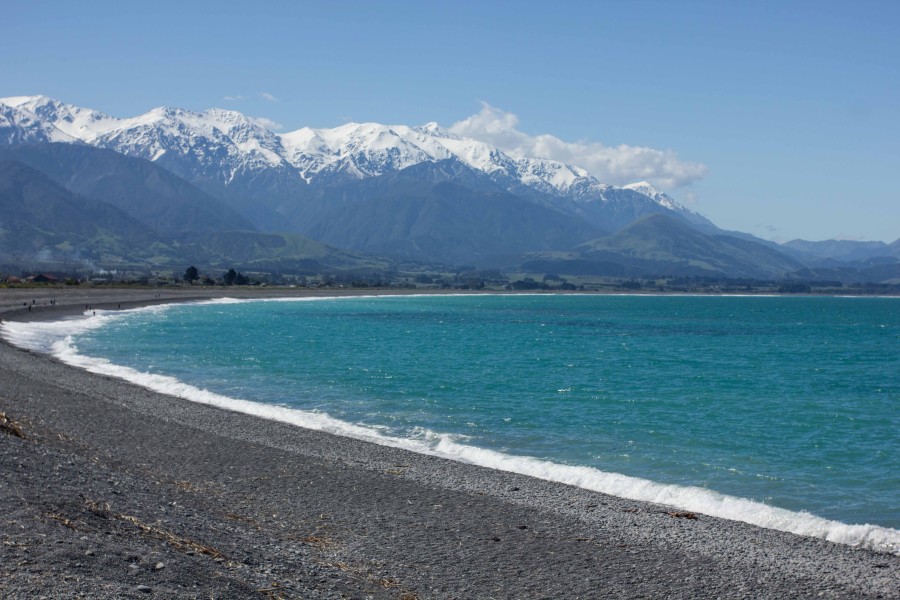 By six in the evening I was walking with Jeanne through their farm on the outskirts of Christchurch. She is a sister of a family friend from Holland.
'But he's leaving tomorrow!' she says to her husband who takes this in with a look of shock on his face.
'So you're only one day in the South Island?' he asks still incredulous that I have a flight to catch thirty six hours later.
After dinner the two of them pull out a bunch of maps and point out all the places in South Island that I should be visiting. If I really want to see New Zealand I'll need to rent a car they explain to me. I tell them that I've realized that by now.
'If I'd have known you had only a week in New Zealand I'd have told you to come straight to South Island' says Jeanne.
'Are you sure you can't change your ticket' she's almost pleading with me now.
I tell her I'm sure I can't. But I'm also sure I'll be back.
I leave the next evening and spend the night at the airport since I have an early flight to catch. At five in the morning groggy eyed and still shivering from the cold night I make my way to the immigration centre.
'How was your stay' asks the immigration officer as she stamps my passport on my way out.
'Too short' I reply.
'Don't beat yourself… that's always the case with the South Island' She laughs.