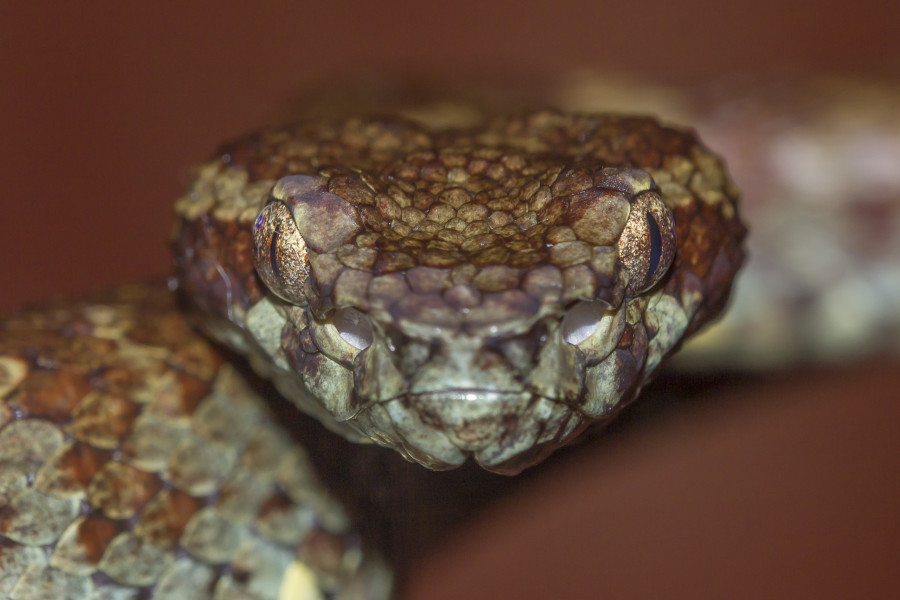 Click on the pics to load them in high resolution.
Venomous
Average length: 2 feet
'Have you seen the bright yellow viper in the bush in front of the building?'asked Chetana
'Is it still there?' I asked while continuing to eat my lunch in the dining shed at the Agumbe Rainforest Research Station.
'Oh yes I just saw it' came the nonchalant reply.
'Ok thanks for letting me know! I'll check it out after lunch' I replied while continuing to eat at leisurely pace.
It was an odd reply and reaction coming from me considering that under normal circumstances I would drop anything and everything and rush out to find the snake. Just about any snake enthusiast knows that snakes don't wait around. They disappear in seconds. So it is highly unlikely that someone will ever hear me say something like that again.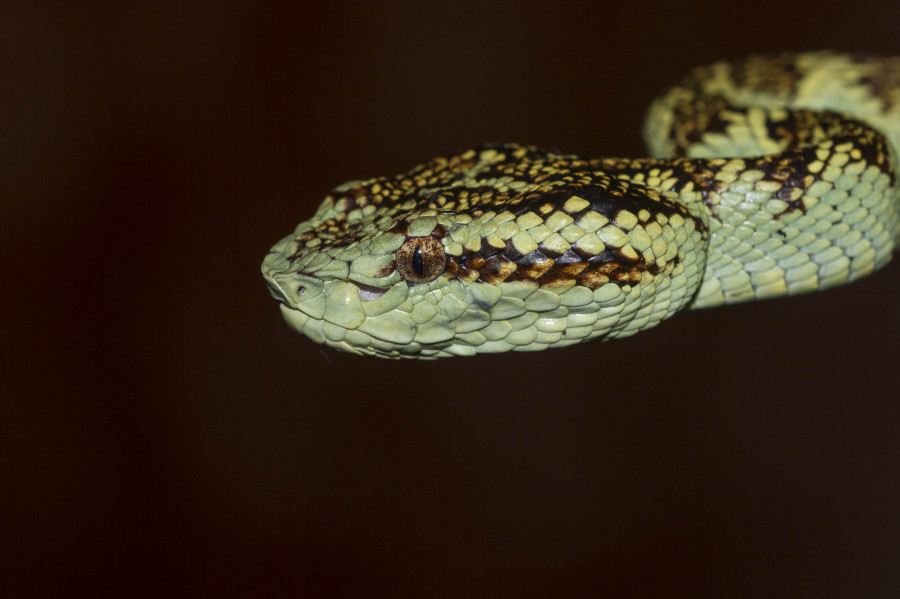 The only reason this was the exception was because I knew that Chetana was talking about a Malabar pit viper. A few species of snakes are known to frequent their preferred spots with fair regularity and some even use the same tree to rest for several successive nights. But none of them are as picky, particular and therefore as predictable as Malabar pit vipers.
Over the years I have seen several different Malabar pit vipers choosing not just visiting the same tree or bush but also the exact same branch and twig to nestle on for days on end!
On my first evening there Chetana had shown me a sparse bush about three meters tall saying that by nine pm there would be a pit viper sitting on the twig she was pointing at. I did not believe her until later when I checked and actually found myself staring at a snake which had seemingly materialized out of nowhere to coil around the exact twig Chetna had pointed at!
A day later Brian (a researcher from California also staying there) showed me a Malabar pit viper sitting on a low bush about a hundred meters from the station building. He had been seeing it in the same spot for days.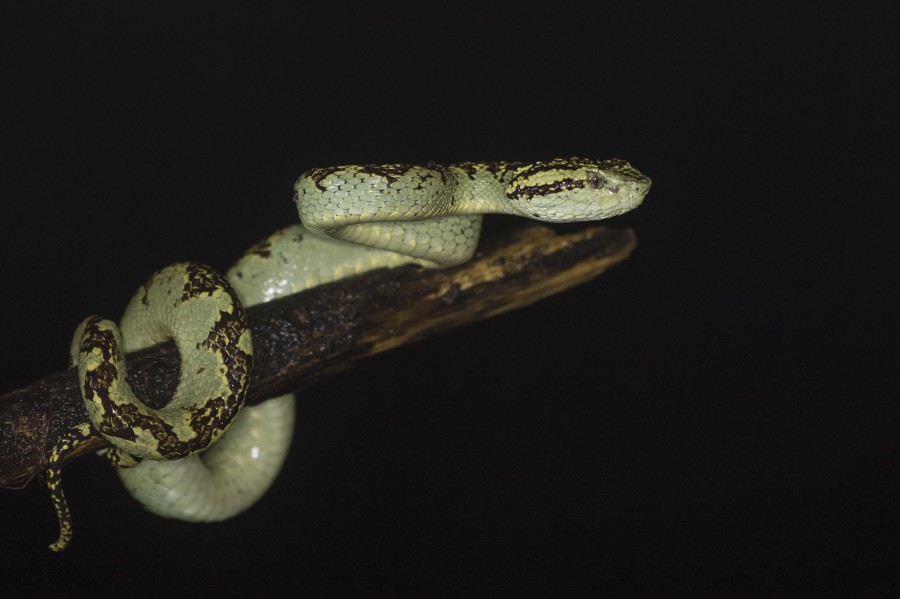 The pit viper that Chetana was now talking about, had chosen a small low bush just outside the front of the research station. It had obviously been there for several days since none of the researchers there also eating their lunch with me bat an eyelid on hearing Chetana's comment! The snake stayed unmoving while I photographed it. It was indeed bright yellow which at the time seemed to me to be an unusual color for a Malabar pit viper. I was going by the colors of the previous two Malabar pit vipers which had been different from each other but basically still shades of brown and grey.
Over the years and about a dozen Malabar pit vipers later however, I have come to understand that there is no such thing as a usual color or pattern for a Malabar pit viper. I look for Malabar pit vipers every year during the rains in Ambolim and I have found them in shades of grey, azure green, brown, yellow and a rusty chocolate!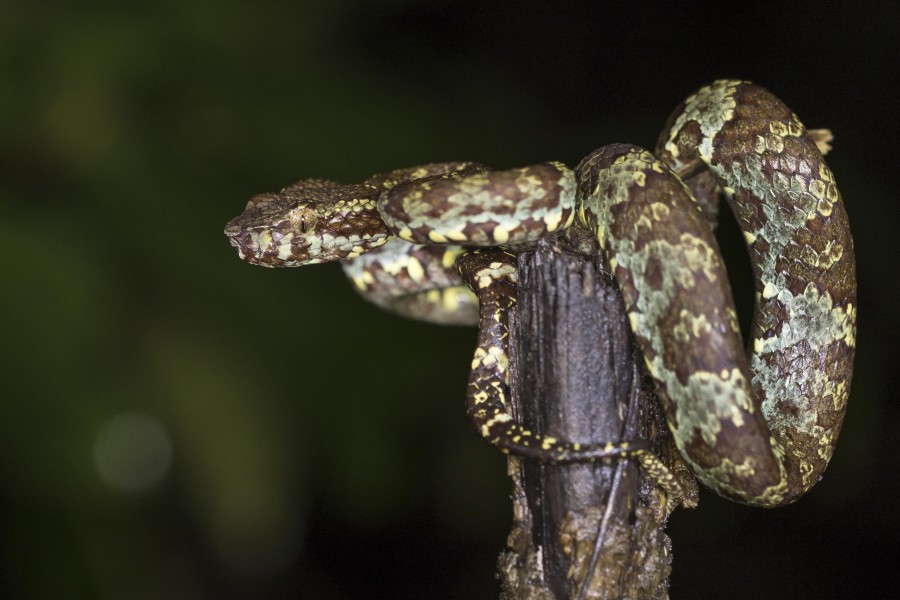 Consider the notes I've copied from Snakes of India which are hardly less variable in suggesting possible body patterns and colors for this beautiful viper: Typically green olive or brown back with prominent brown /black spots that may join to form a faint zigzag pattern. There may also be scattered yellow spots along its sides. Some specimens may have a dark streak behind the eye. The underside is usually pale green, yellow or grayish-white with scattered brown and yellow markings. Variations include black and yellow mosaic pattern and a reddish-brown (sometimes almost maroon) form.
This phenomenon of the presence of variable color morphs in a single species is known as polymorphism. Polymorphism is often suggested as an evolutionary strategy used by certain species to render it a survival advantage since it confuses predators. This could make sense when you think about the fact that most predators often lock onto particular aspects and cues such as body color to hone in on their prey. A plausible explanation indeed. But then why don't most other snakes exhibit polymorphism? Evolutionary theories it seems are plagued with exceptions and traps they set for themselves!
Whatever the possible reason for the Malabar pit viper's varied avatars it certainly makes it for a very beautiful and interesting species to observe and photograph.
Here are some interesting facts about this snake:
1. Malabar pit vipers are usually nocturnal but also seen by day in the monsoons.
2. The venom of this snake is apparently mild in effect causing moderate pain and swelling which subsides in a day or two.
3. Like all vipers these snakes are live bearers
4. As its name suggests this snake has a heat sensitive pit located in between the eye and nostril, one on each side of the face. The pit is extremely sensitive to heat and helps the pit viper track prey in pitch darkness
3. Malabar pit vipers are endemic to the Western Ghats