Click on the images to load them in high resolution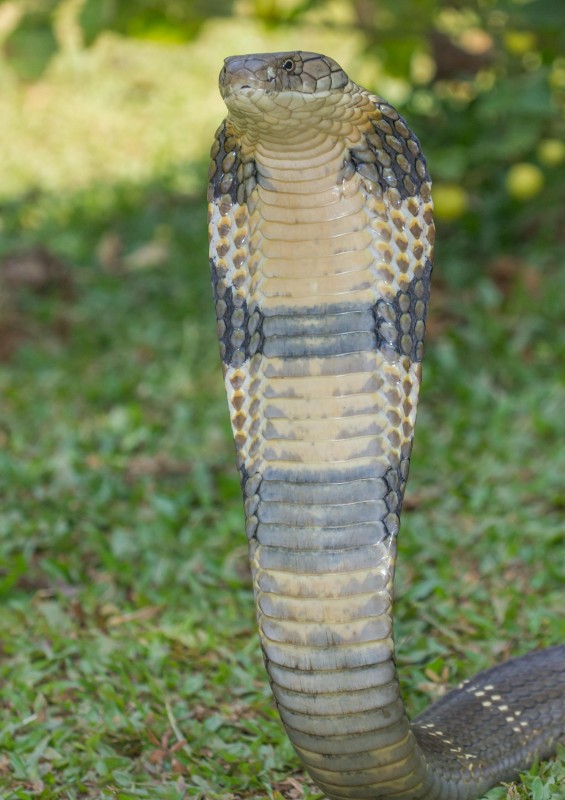 The trouble with most camera equipment is that it gets outdated very quickly. Photography equipment is evolving so rapidly these days that many professional photographers simply change their cameras altogether every couple of years (if not sooner!). Newer cameras are lighter, have more pixels, focus faster, have a higher frame rate, and show much less noise with higher ISO settings. Translated this means that if you took a great picture of an animal some years ago it might still not hold a candle to a very average picture taken by Mr. Technology today since he owns the latest gadgetry on the block! The grudging solution: get a new camera and simply reshoot most of your subjects if you want to stay in the game.
The first time I ever saw a King Cobra up close was in 1995. It was at the time Rom Whitaker was filming to shoot the movie 'King Cobra' at the Madras Crocodile Bank. Back then I was the geeky kid running around hoping to be useful just so no one would tell me off for getting in their way. At the time I did not even own a camera!
Seven years later I got my first chance to handle a King Cobra at the Queen Savobha institute in Thailand. Getting permission to handle one of these giant snakes wasn't easy. King Cobras can pack quite a punch with their venom and it took a fair amount of pestering on my part and a death disclaimer written in my own handwriting before the handlers would even let me get close to the Kings.
This time I carried my dad's film camera and despite my frugal knowledge of photography then the pictures I took fortunately came out quite ok. For that time that is!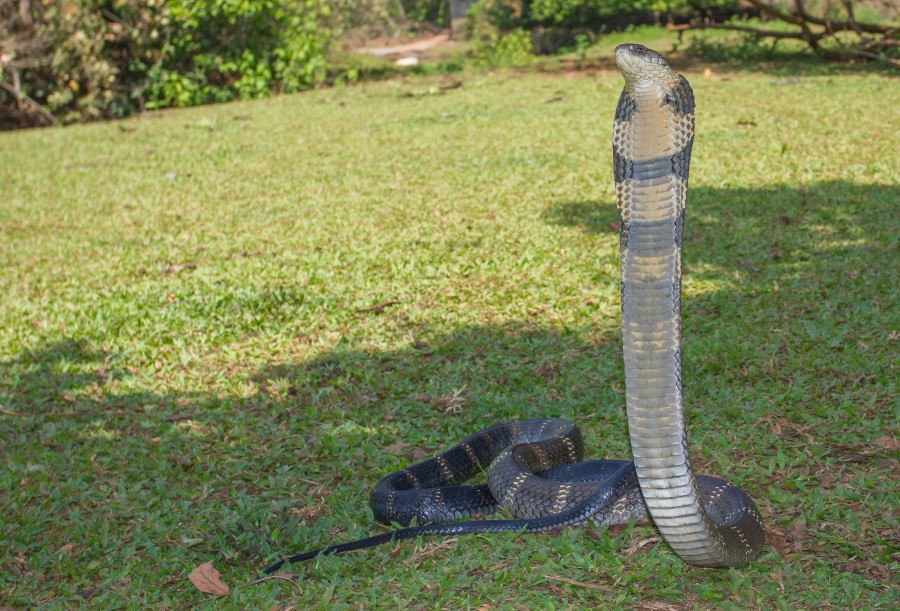 But by 2008 when I purchased my very own Digital SLR camera my satisfactory pictures taken in 2002 had began to look very unsatisfactory. I simply had to get another shot at photographing a King Cobra with my new equipment. Trouble is that King are very rare snakes. Living in thick leech infested rainforests they definitely don't make themselves readily available. Besides even if you do get lucky and find one I can assure you it wouldn't at all be amused to have a camera repeatedly thrust into its face.
Getting bitten by a King Cobra isn't an option: they have enough venom to flatten an adult elephant. It also doesn't help that there isn't any King Cobra anti-venin available in India. With odds like these I had virtually no chance of safely getting a great shot of a wild King Cobra. But then I've always been more lucky than lucky with snakes. One of the advantages of being a snake handler is that you make acquaintances with other snake handlers. One of my acquaintances is Amrut Singh who lives in Bicholim Goa. Amrut, who runs Animal Rescue Squad, is renowed in Goa for rescuing over a dozen King Cobras from human habitations in the last few years.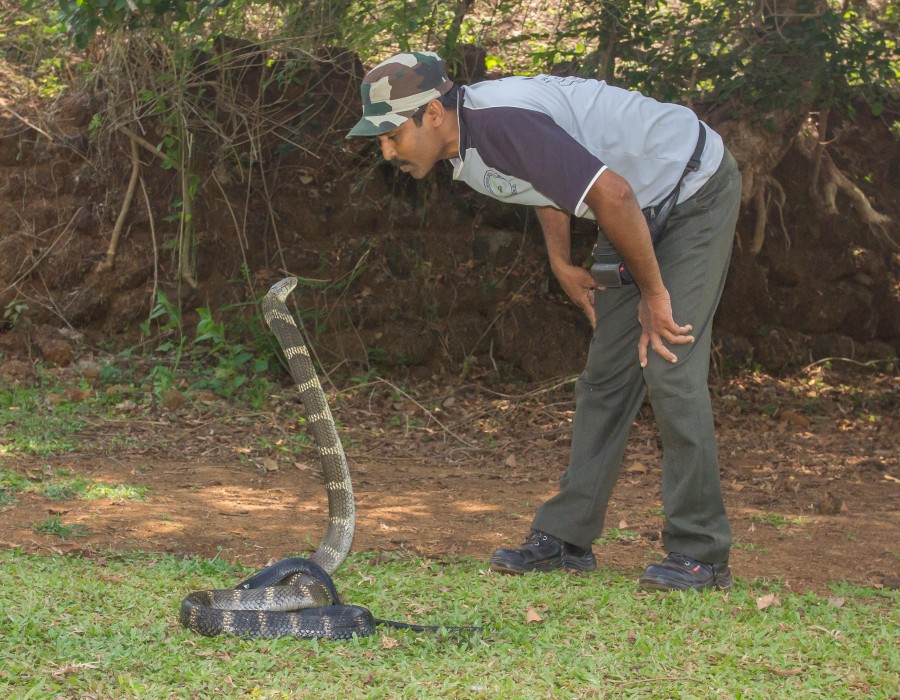 All the King Cobras he rescues are released back into the wild very close to where they were found (so as not to disorient them). It was for one such release of a King Cobra that I was invited.
The concerned King Cobra, at nine a half feet in length, was 'not very big' in Amrut's own words! To me it seemed big enough and, judging by the way it charged at Amrut, wild enough too! But Amrut is an utterly fearless snake handler. He handled the snake which was twice his height effectively and relatively effortlessly.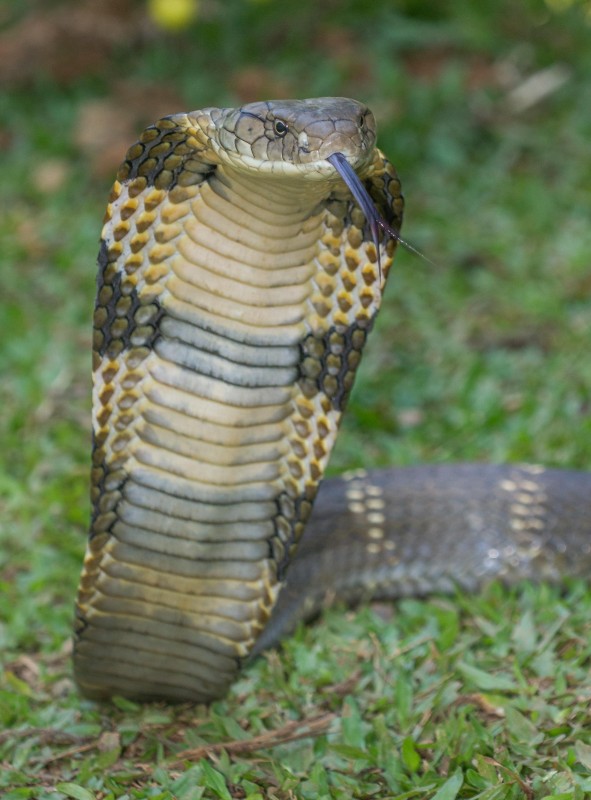 I on the other hand wasn't doing very well at all. For starters it was the middle of the day (bad lighting for photography). Then there was the added issue of the constantly moving King Cobra which had the autofocus on my macro lens running bezerk trying to lock onto it.
About a hundred and twenty shots later I began to relax a bit. I still hadn't got the perfect shot but I had a feeling that I must have managed atleast some very good pictures.
But that's just how wildlife photography works. And when Amrut calls again I will be back in business, perhaps with even better luck next time, and just maybe with a better camera too!
Facts about King Cobras
1. At a record length of eighteen feet eight inches a King Cobra holds the world record for being the longest venomous snake in the world.
2. King Cobras are also the only snakes in the world to build a nest. A female King Cobra piles dry leaves into a huge mound using only her coils. She lays her eggs inside the mound and then stands guard over them until they hatch.
3. True to its latin name Ophiophagus hannah a King Cobra only eats other snakes. They generally feed on ratsnakes but will also eat venomous snakes, monitor lizards and aren't above eating members of their own species sometimes!