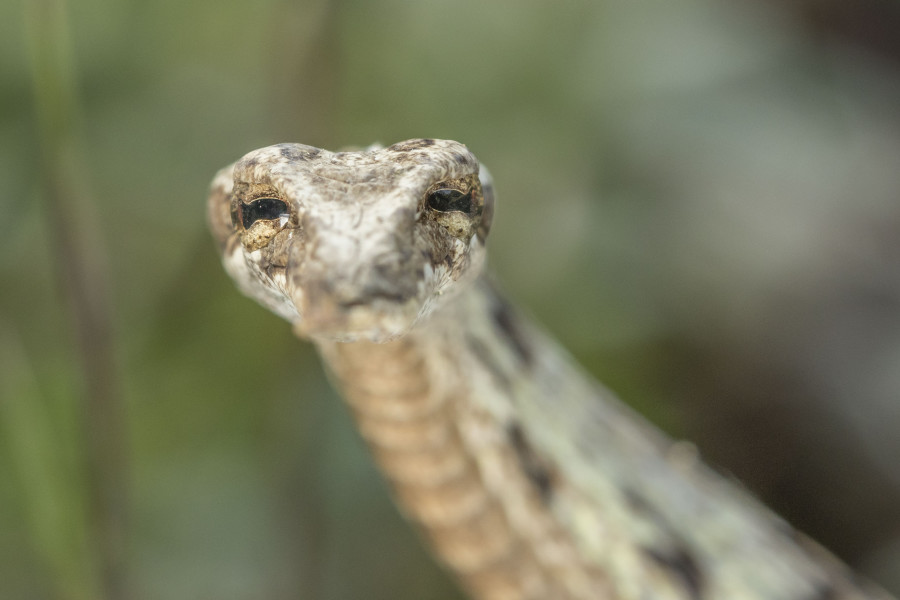 Ahaetulla pulverulenta
Average length: 3 feet
Vine snakes are synonymous with the color green and are the epitome of camouflage when they inhabit plants and trees. So why is this species of vine snake brown in color? For the simple reason that not all vegetation is green. Many parts of plants and trees are brown and on this kind of vegetation a brown vine snake is obviously much better camouflaged than a green one.
The brown vine snake serves as an example of the fact that there isn't just one solution to tackling the challenges of a given environment. At any given point one strategy might have an advantage over the other, but both strategies must work since both species of snakes continue to exist and thrive in their habitats.
The green vine snake is ubiquitous in Goa. And surprisingly it isn't just restricted to plants and trees. I've often rescued green vine snakes from human habitations and once even pulled out one that was hiding inside a washing machine! The brown vine is a more difficult snake to find. The specimen in the photograph was actually rescued by a colleague of mine Deepak in the immediate vicinity of the Cotigao wildlife sanctuary. Cotigao is about 90 km from where I live in north Goa. Fortunately I was already in Cotigao photographing butterflies at the butterfly park when Deepak called to give me this exciting news. So I was able to quickly meet up with him to inspect and photograph this rare snake.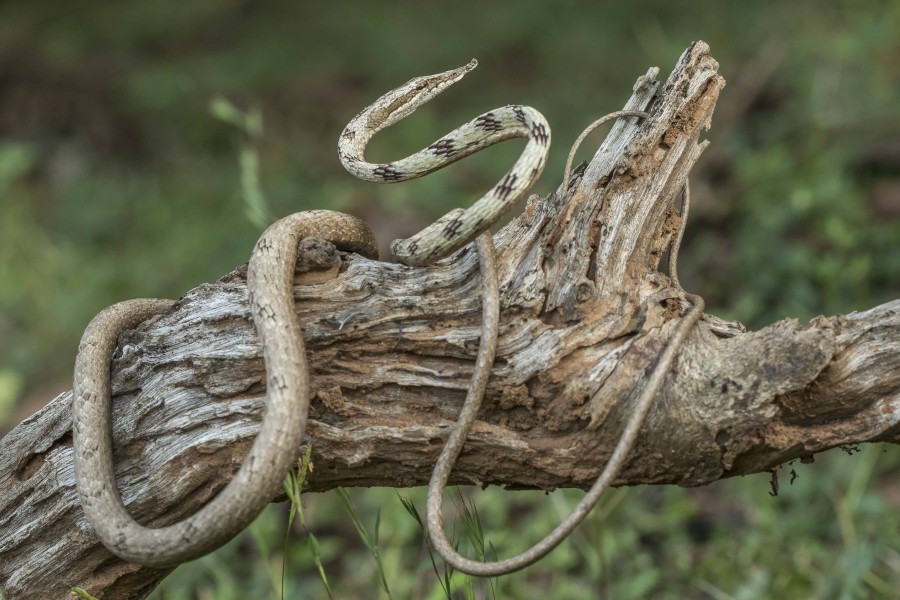 At first glance the brown vine snake looked very similar to the green vine snake. It moved and behaved in an identical way. Threatened it opened its jaws wide displaying back fangs and just like the green vine snake, it actually never stuck to bite. But when I handled the brown vine snake I noticed something remarkably different about its forebody. Fully inflated in a threat display the forebody had the feel of a soft paper lampshade!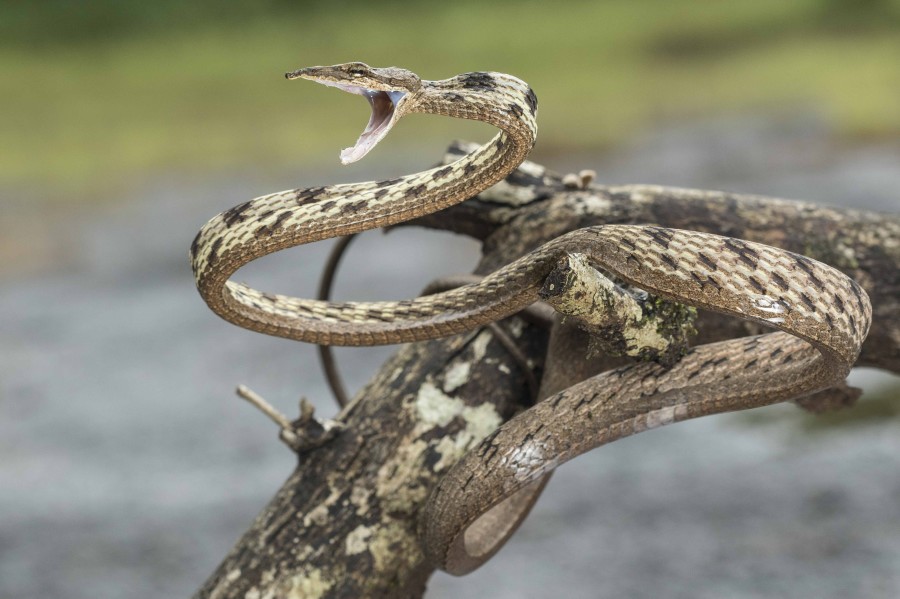 Checking my snake books later I learnt that the green vine snake often comes in a brown form that can look very similar to a brown vine snake! Now I wasn't even sure what I'd photographed! As it turns out the brown snake has a longer snout compared with the green vine snake (or the brown form of it). In addition the snout of the brown vine snake ends in a very noticeable swollen tip. Another characteristic that distinguishes this snake from the other species of vine snakes is a horizontal eye stripe which runs right through its eye on either side of its head.
Like other vine snakes the brown vine snake produces a mild venom which helps it subdue small birds and lizards. The venom is too mild to affect humans to any noticeable degree and the snake is therefore considered harmless. The brown vine snake shares the horizontally pupil and binocular vision of the green vine snake. It is exceptionally sensitive to movement and hunts in the day.
Like all vine snakes the brown vine is viviparous and gives birth to live young.