(For higher res pics do click on the images themselves!)
This often happens to me: I'll dream about a place for years and years. I'll imagine being there one day. I'll build an entire structure in my head with trees, animals, people, roads and houses. And then one day I'll actually be there and I'm almost in tears knowing that I finally made it! It happened when I made it to the Andamans, Gir (the home of the Indian lion), Paris and a number of other places. And now it was happening again.
I had just stepped out of the airport at Kotakinabalu (KK) and I was now officially in Borneo! The home of the Orangutang and the Proboscis monkey.
At ten in the morning the sun was shining blindingly bright in the sky.  As directed by the information desk I started walking left along a long pretty road. I had only an address of a particular dive centre with me and I was going to find a bus to get there. The prepaid taxies at the airport had wanted 30 ringet (17 rupees to 1 ringet) to take me there and the Indian in me was determined to find a cheaper way!
The road was deserted. Everyone else who got off the flight seemed to have taken a taxi. About a kilometer away I found a deserted bus stop and plonked myself there. After ten minutes a taxi slowed down and I negotiated with the driver for half the rate I would have paid at the airport! My destination was a place called Wisma Sabah where I had to meet with Mark who ran a dive outfit called Diverse Borneo.
Kotakinabalu was unlike anything I'd imagined it to be. It was very modern, extremely clean and had beautiful roads. Obviously I was some distance away from the jungles I was dreaming of!
By afternoon I had found myself a dormitory at Borneo Gaya Lodge. The dormitory would cost me 25 ringet a night. Not bad when you consider that the dorm was airconditioned, had free wifi, and included breakfast!
By the next morning I was on a boat along with three other divers heading for Abdul Raman national park. The three others were actually learning how to dive and after getting to our destination they went off with one instructor. I on the other hand was just going to be 'fun diving'. This was going to be just me and my instructor Aaron. Aaron was a chubby faced Malayan full of jokes and giggles.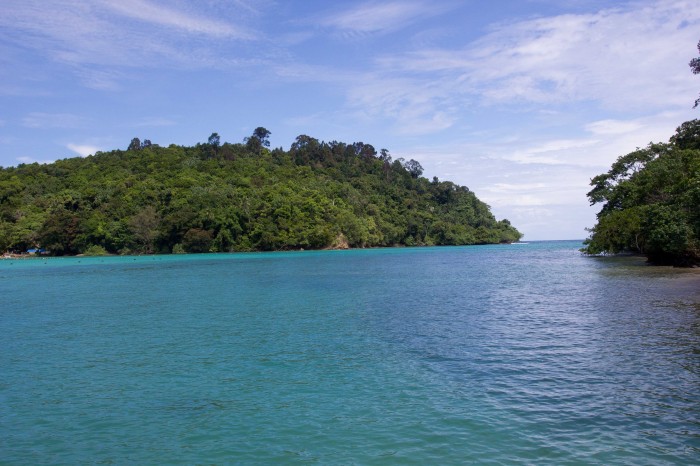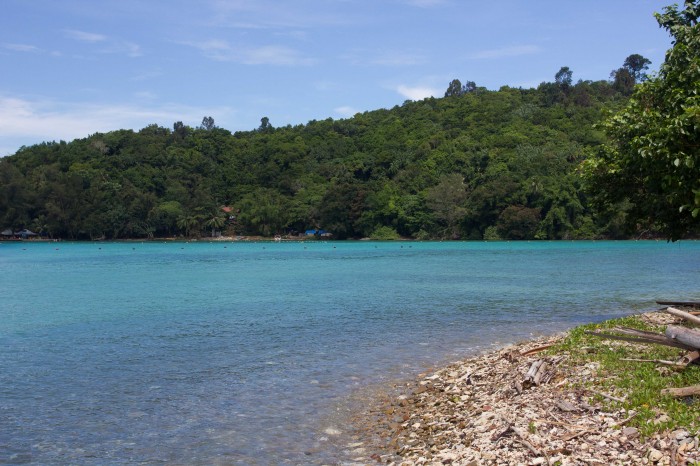 My first dive started just off the beach since Aaron wanted to make sure I still knew how to breathe air underwater! The visibility here was fairly decent (possibly around 7 meters). The reef however was in a bad shape. Most of the coral was dead and in some places  bits of coral lay strewn all over the sea bed.  The fish life was good.  Not great though. If you must know all of my observations were made in comparision to my last diving destination namely the Andamans.
Don't be thinking that I'm beating up diving at Kotakinabalu with Andaman experience. I'm just saying that if you compare the two the difference is quite obvious.
Lets put it this way: if I hadn't dived at the Andamans I'd have thought the diving here to be excellent! After all there were quite a few of the common reef fish: Moorish Idols, Clown triggers, and many species of butterfly fish, parrot fish, wrasse, damsel fish and Clown fish (Nemo!).
A highlight of the first dive was a bizzare looking scorpion fish. This highly venomous fish was so well camouflaged that I'd never have spotted it had Aaron not coaxed it out of the sandy sea bed with a metal probe that he was carrying. Out of the sea bed the Scorpion fish flared all its fins making it look like an ostrich at a carnival. The fish was obviously well aware of its capabilites for dishing out excrutiating pain and refused to swim away. Eventually it irately walked away on what appeared to be a bunch of short legs beneath its body!
My second dive was more interesting since I was dropped off a fair distance from the shore. The visibilty was a bit better here and the reef wasn't as messed up. Fish life also was fairly good. After the dive I was treated to lunch on the island. I then spent some time unsuccesfully trying to photograph a monitor lizard that kept popping out of the dense forest surrounding us looking for scraps around the restaurant.
I'm not going to say much more about my diving except that by the next evening I had done my sixth (last) dive and I was still not too impressed with the overall experience. I was by then quite certain that I should have listened to my friend Aaron Lobo. He had suggested either going back to the Andamans or paying the extra and diving at Sipadan (the best place to dive in Borneo).
Don't get me wrong again though, for over the last two days I had seen quite a variety of fish including Blue ringed angels, Moray eels, Giant puffers, Surgeon fish, barracuda, red snapper, shoals of Yellow backed fusilier, goat fish and even one large Green turtle. At 500 ringet for six dives and two meals this was real value for money. But then of course I hadn't come all the way to Borneo to find 'real deals' so the next day I took a break and visited the Likas birding centre.
The following morning I was on a bus from Inanam to Kota Kinabatangan. The journey of around 300 kilometers would take approximately about six hours. My destination was a coffee shop at Medan Selera from where I would be picked up by a coach service provided by the Kinabatangan Nature Lodge. I had already paid for this in KK and was looking forward to this this trip since it was highly recommended by my lonely planet guide book!
You should know though that I could have booked a flight (in advance) for almost the same cost at the bus but then I knew I'd see much more being on the road. The jouney to Kinabatangan was very picturesque at times. That was when we would be driving through lush forests with cloud clad moutains in the distance. At other times it would just be miles and miles of palm oil plantations. I would later read somewhere that palm oil plantations have contributed to about 87% of the deforestation of Borneo's rainforests.
By about three in the afternoon I was standing besides a large river waiting, along with twenty other tourists, to be ferried across to the nature lodge. Glancing at the register passed around in the coach I was surprised to find that I was the only Indian here. But then this seems to happen to me more than often these days!
After a sugary and unnaturally yellow coloured welcome drink I was shown my bed in the dormitory. Now if  I said that the dormitory in KK was good then I have to say that this was even better! No time to rest though. I put down my bag in the room and immediately proceeded back to the jetty. The nature lodge maintained a tight schedule with several activities throughout the day and right now we were going out on our first boat trip.
Each boat seats about fifteen people and plys the river for about two and a half hours before returning to base camp. Our guide and boatman that evening was a guy called Asar. Over the next several boat trips I'd realize that he was the most knowlegdeable of all the guides employed by the lodge.
The Kinabatangan river is massive. At times it seemed over three hundred meters across. Wildlife, I had read, concentrated in the trees along the banks of the river. Either that or it was just easier to spot wildlife from a boat as compared to being in the forest where tall trees and thick vegetation obscure visibility of animals. I'm inclined to believe that it's both!
Asar obviously had done the boat ride only a zillion times and he'd purposefully steer the boat to particular stretches of the river bank while often simply zipping by other areas. About half an hour into the boat trip he's spotted an Orangutang! It's almost half a kilometer away and in extremely bad light. But still a living breathing wild Orangutang!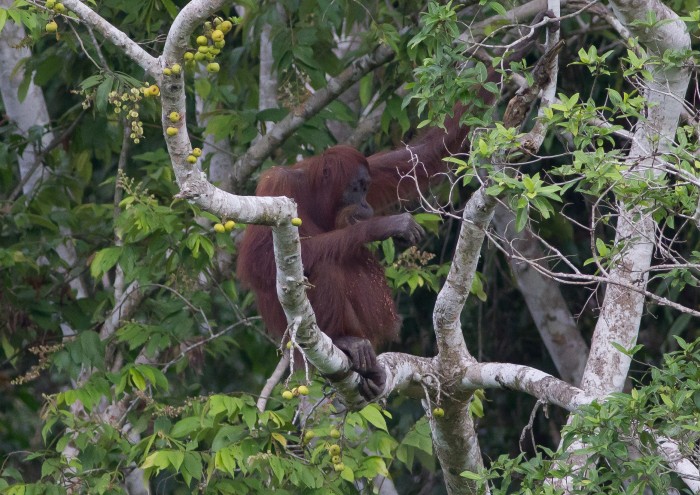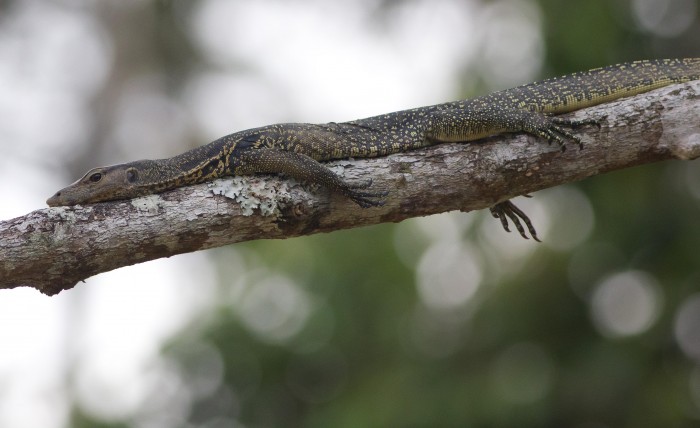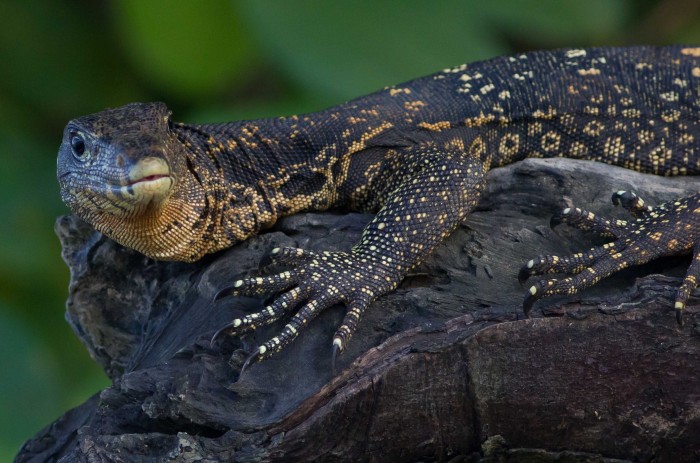 If the lighting was unhelpful the Orangutang was even more so, turning its back on us no sooner had all of us spotted it. Even with my 400 mm lens I struggled to get shots of it.
After fifteen minutes viewing time, which included a short lecture from Asar on the 'old man of the forest' as the ape is affectionately know as, we zip off again. A little ahead a monitor lizard lies draped over a branch hanging out into the river. The monitor lizard looks like he's recovering from a long party he attended the previous night!
Five minutes for the monitor lizard and we're on the move again. About fifteen minutes later Asar suddenly slows down the boat and begins craning his neck around. About ten meters away something is moving in the bushes. Moments of silence are punctuated by loud thrashing sounds of large plants being ripped apart.
'It's a pygmy elephant!' exclaims Asar in a loud whisper. At first all we see are the moving bushes. Then suddenly a large grey bump pushes out of the bushes and a single eye peers at us. Unfazed by the boat the elephant continues ripping apart plants with its trunk and shoving them into its mouth. My 400 mm lens is now a handicap. The elephant has to be atleast a hundred meters away if I am going to photograph it.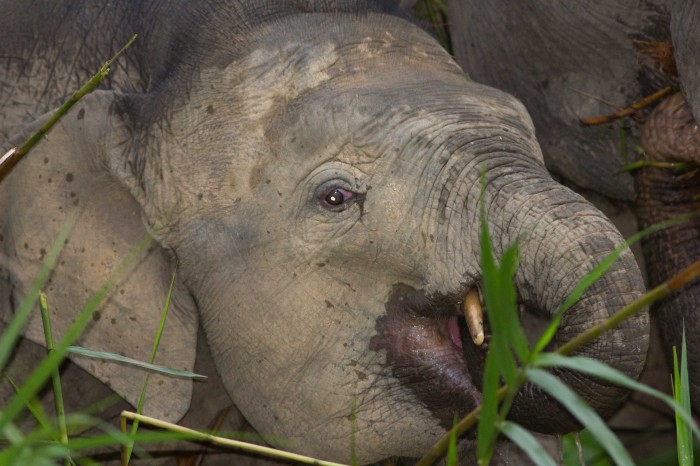 Meanwhile other cameras are flashing all around me and now about three other boats have joined us. Everyone is trying to get a look at the elephant. We need not have worried. Over the next  thirty minutes five more elephants would reveal themselves to us! At first they'd stay in the bushes. After a while though some of them would began to move to a patch with tall grass. And as they demolished the grass they became more and more visible to us. The elephants were of different sizes from a large matriarch to a small baby who looked less than a year old.
Viewing elephants from the boat definitely has its advantages. The elephants won't charge since they don't view you as a threat sitting on piece of wood floating in the water. Which means you can get much closer to them with a boat as compared to when you're on land. While Asar maintains a minimum safe distance of four meters from the elephants some of the other guides are taking their clients much closer. I for one am glad to be on Asar's boat!
About fifteen minutes into watching the elephants it starts to pour. My camera immediately goes into a plastic bag. By the time the rain has stopped I think of switching to a wide angle lens, but by then it is too dark. At six forty five in the evening Asar turns the boat around to return to the lodge.
Dinner is a fabulous buffet with more of the bright yellow drink. The sickeningly sugary drink seems to get better with each meal though and by the end of my three days there I would be seriously addicted to it!
Next morning we're out on the boat at 6. a.m. Our sightings over the next two hours include Crested serpent eagles, Oriental pied hornbills, Black and yellow broadbills, Silver leaf monkeys and the bizzare looking Proboscis monkey (or Pro-bos-kiss monkey as the guides would call them!). The first time I saw a proboscis monkey was  in Tintin comics (Flight 714). I remembered how nn the comic one of the character draws a comparision between the evil Rastapopoulos and the Proboscis monkey's large bulbous nose. Looking at a large male dozing in the trees I realize that the caricuture of the monkey in the comic doesn't look very different from the real one in the wild!
Below: Stork billed Kingfisher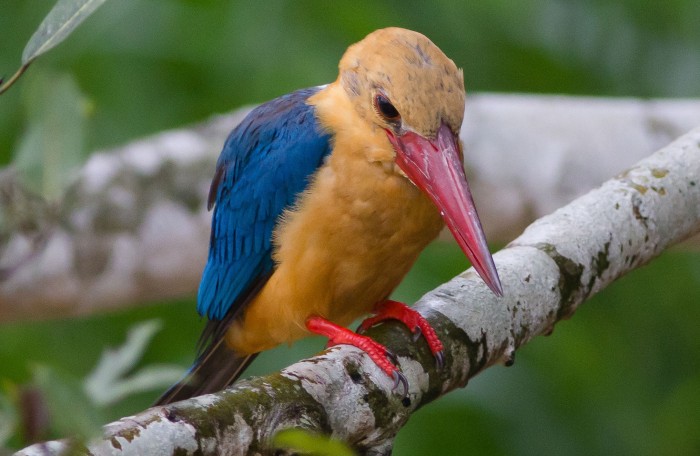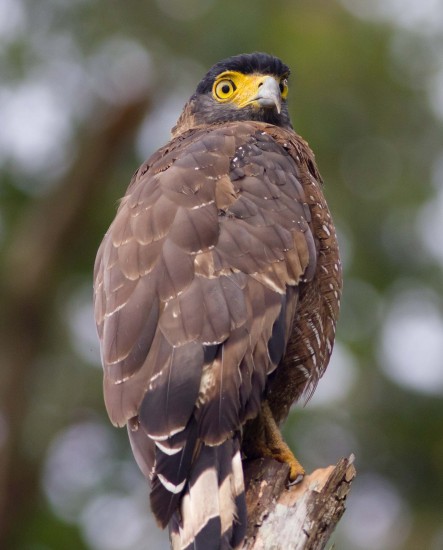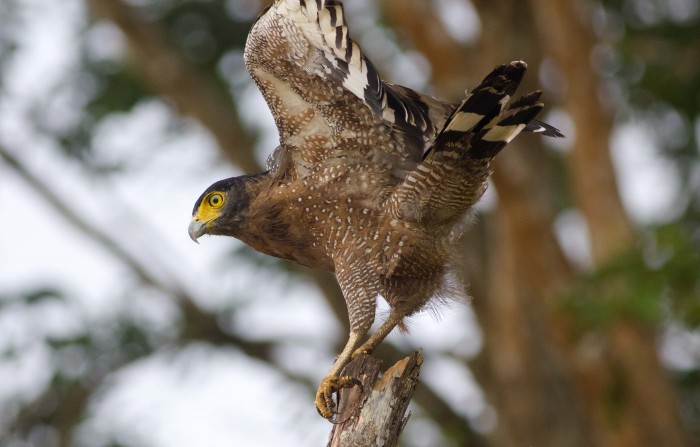 Above: Crested Serpent Eagle
Below: Oriental Pied hornbill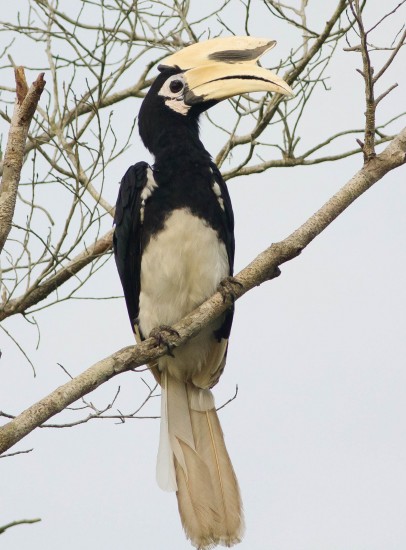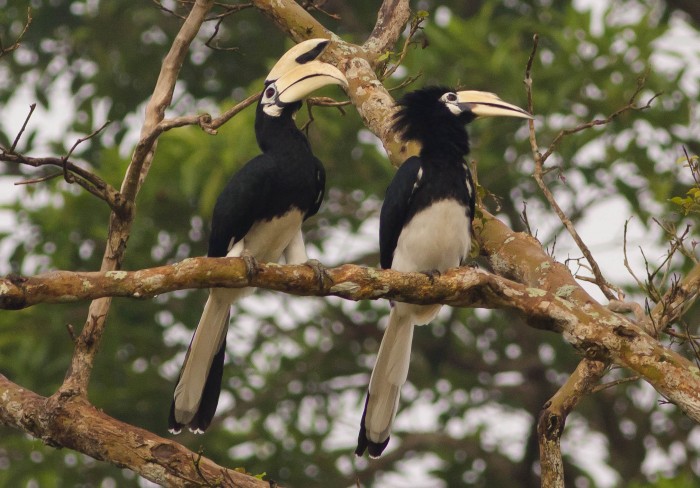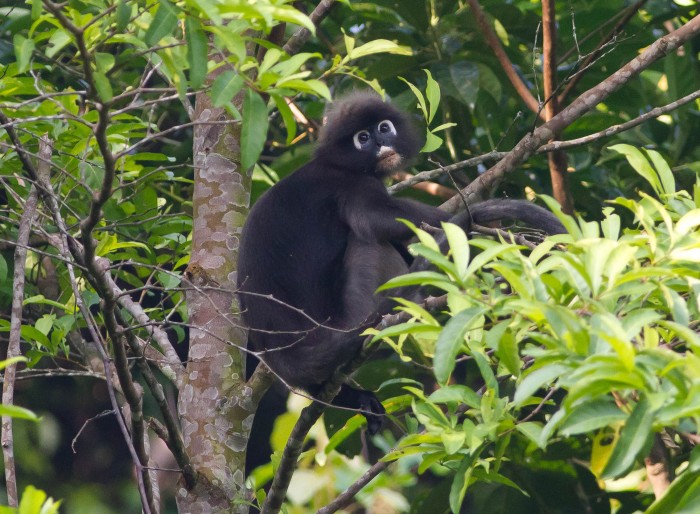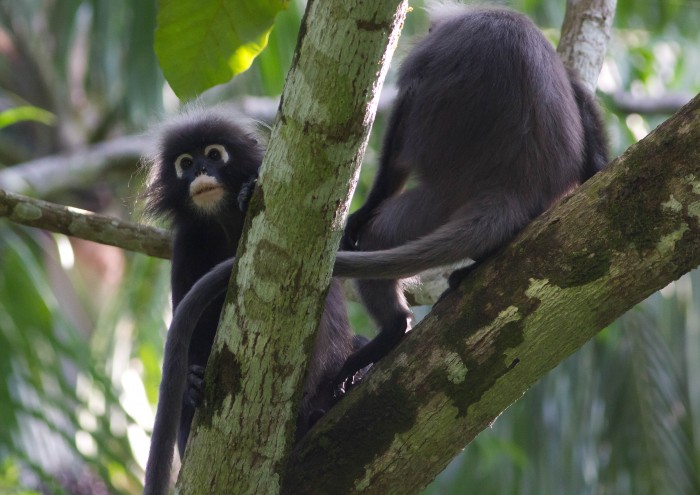 Above: Silver leaf monkeys
Below: Proboscis Monkeys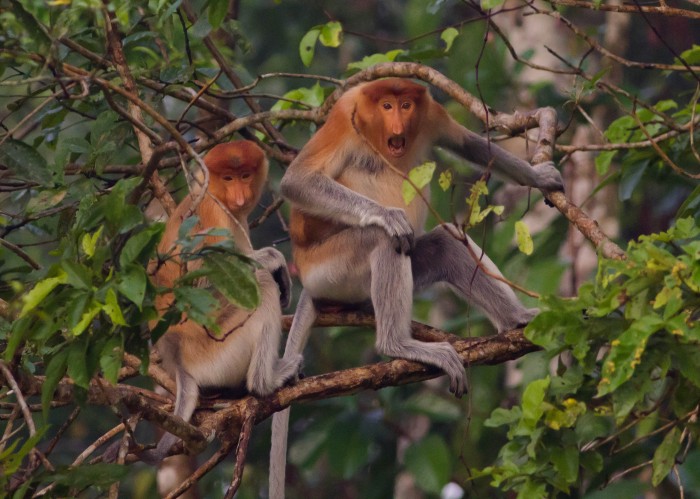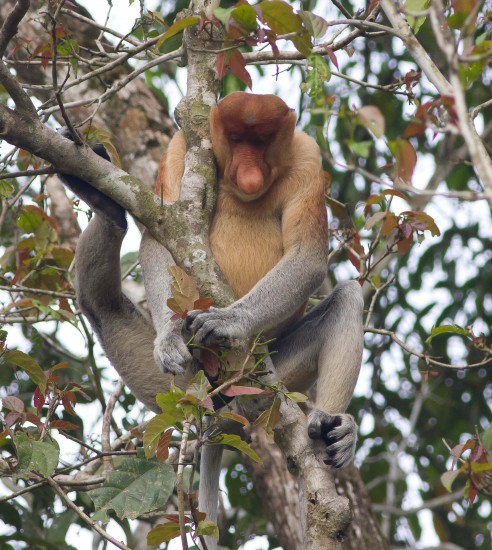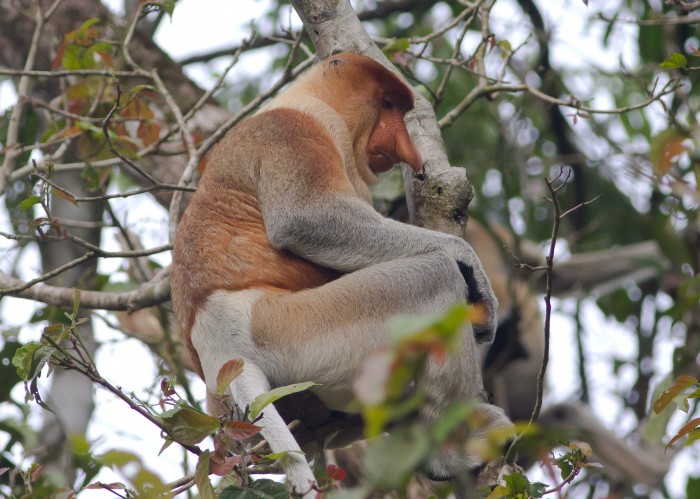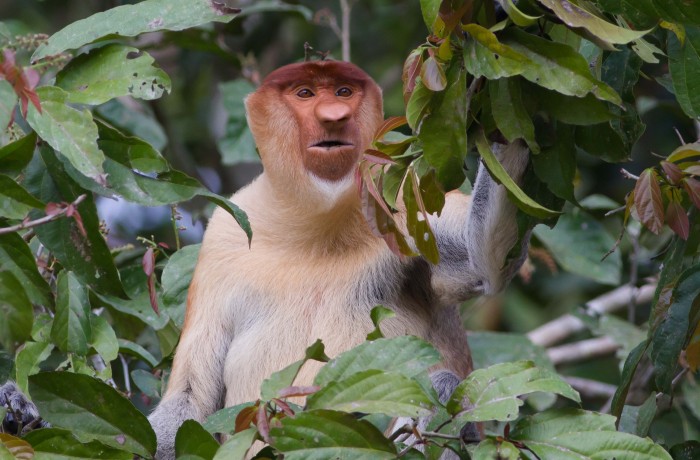 After breakfast back at the lodge the next activity for the day would be the three hour Jungle Walk. At the briefing Asar mentions to us that the walk isn't productive as far as animals are concerned and that it is conducted only to give a feel of the tropical rainforest in the day. I've never been much of a walker so this is just what I need to hear to decide that this isn't my thing! Still, I figure that I should see a bit of the forest so I follow the twenty odd people that sign up for the walk.
The rain has muddied the path and in places the muck is deep enough to sink my shoes. I walk carefully since I am the only one who didn't rent the ten ringet boots that Asar recommeded. I am convinced that I can manage with my regular shoes and I realize that as long as I tread carefully along the edges at the mucky spots (instead of walking right through as everyone else is doing) I am ok. Later I would blast my shoes with water until they looked brand new again and the Indian in me would feel really proud that I had saved ten ringet!
Despite not seeing any animals or birds in the forest I actually enjoy the walk. In places the trees are quite big and the canopy above cuts out the sunlight at most times. So even though it is close to midday in the forest it isn't unpleasant to walk in the forest. And despite the guide's premonitions there don't seem to be many leeches around either.
After walking for an hour I tell Asar that I have had enough. I am not allowed to go back alone though so the other guide who came with us follows me back to the lodge.
The evening boat trip gets me up close with Proboscis monkeys and this time there is decent light to make atleast some of the photographs at ISO 800! Besides the usual Crested Serpent Eagle, Pied hornbills, and Long tailed macquaces we also spot a mangrove snake curled up in a small tree.
That night after dinner Asar takes us out on a 40 minute night walk. I am hoping that we will see the Tarsiers (smallest monkeys in the world) that Asar apparently spotted only three nights earlier but as luck would have it we don't see more than a spider that night!
As per my package deal I should have left after the boat ride the next morning. But I decide to stay another day since it is only going to cost me an additional fifty ringet for an all inclusive extra day and night! So while the others leave for their morning jungle walk I stay behind at the lodge and wander around. Many birds have a strange habit of concentrating near human habitations on the border of the forest so I figured there's a much better chance of me finding birds right near the dormitory.
The previous day I had photographed a beautiful and very comical looking Black and yellow Broadbill right in front of my dormitory. I had got only one decent shot of it and I figured that if I hung around the whole morning the bird would probably show up again.
Below: The Black and yellow Broadbill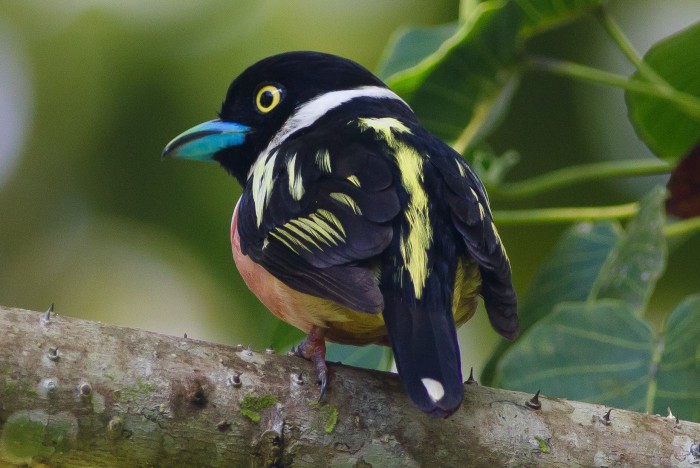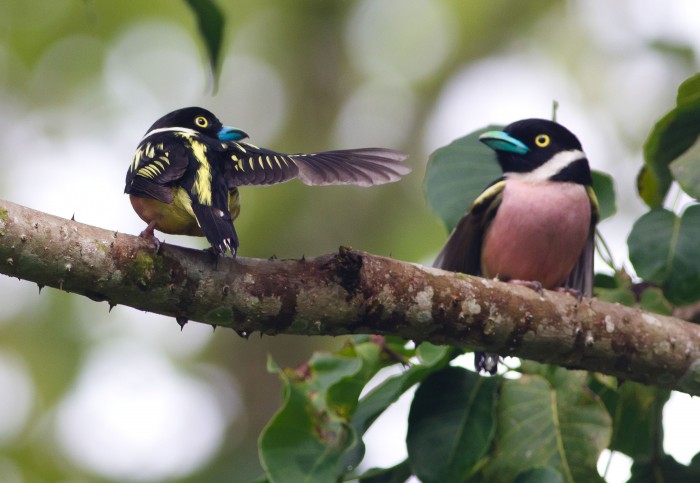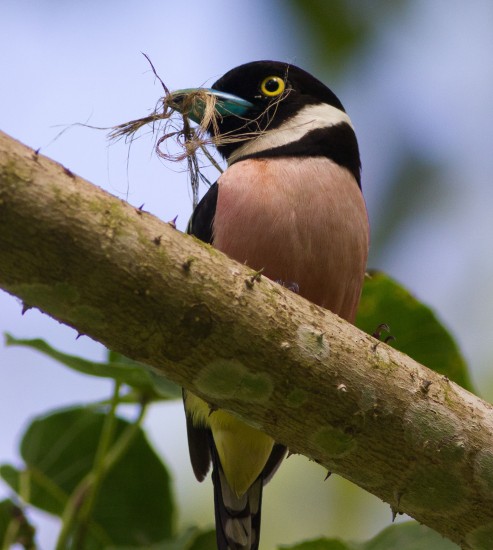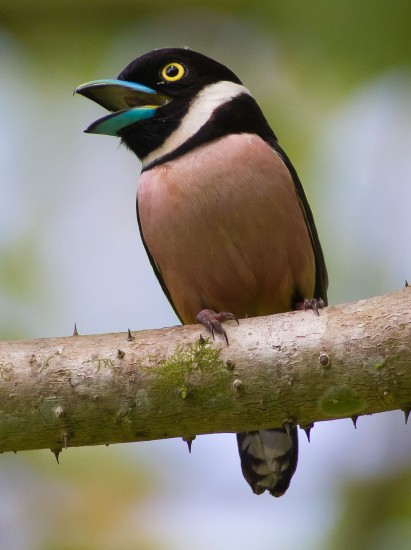 It does! Along with its mate! Turns out that the birds are building a nest right there and I get plenty of action with the birds flying back and forth with nesting material and displaying to each other ever so often.
On my second third night I almost skip the night walk thinking that it might not be productive just like the previous night. It would have been a mistake not to go though since I do find and photograph the stunning Hooded pitta while it is asleep in the branches five meters above the ground!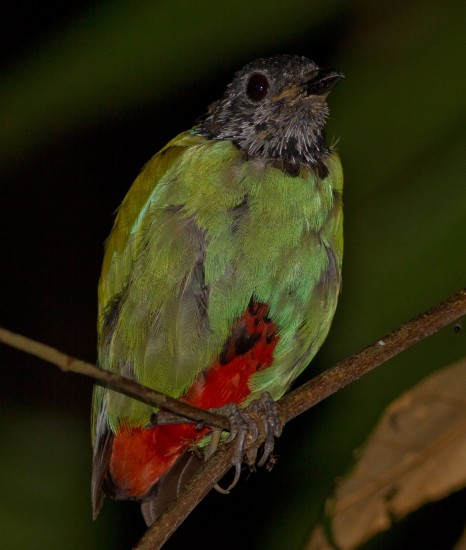 Above: The Hooded Pitta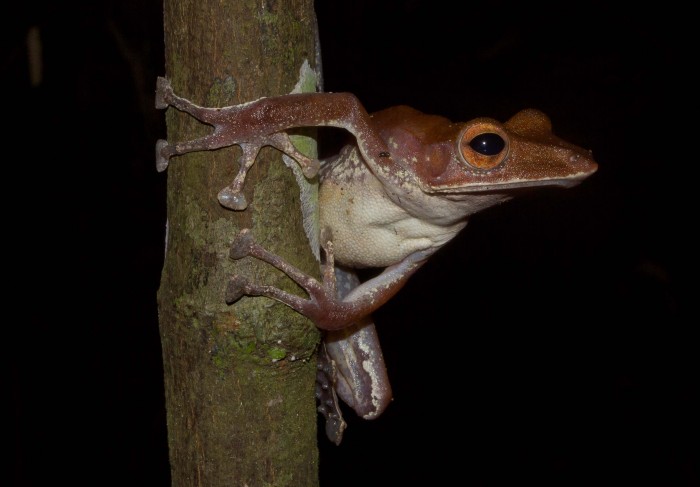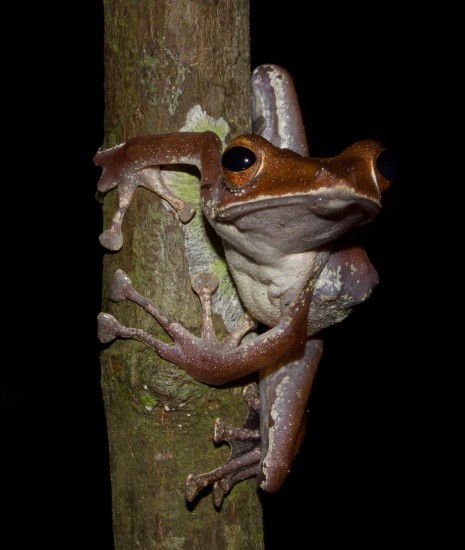 The next morning is my last boat trip. At the start of the trip our guide spots a Buffy fish owl which unfortunately flies away before I can get a decent picture of it. There are plenty of monitor lizards on that morning too. Then just as we are about to return someone spots a pair of Rhinoceros hornbills high in the trees. The birds are quite far away but being big and positioned in good light I manage to get one decent picture before the birds fly off.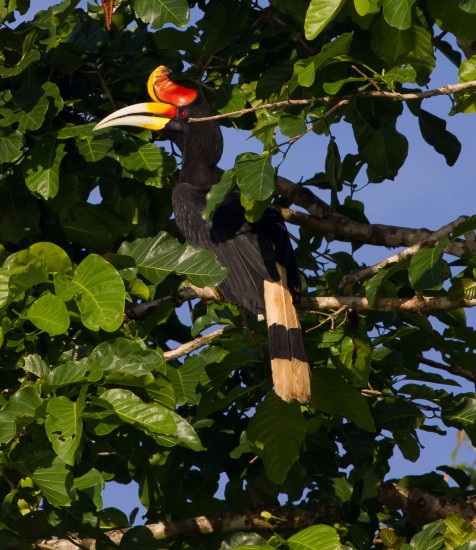 Above: Rhinoceros Hornbill
Below: Buffy Fish Owl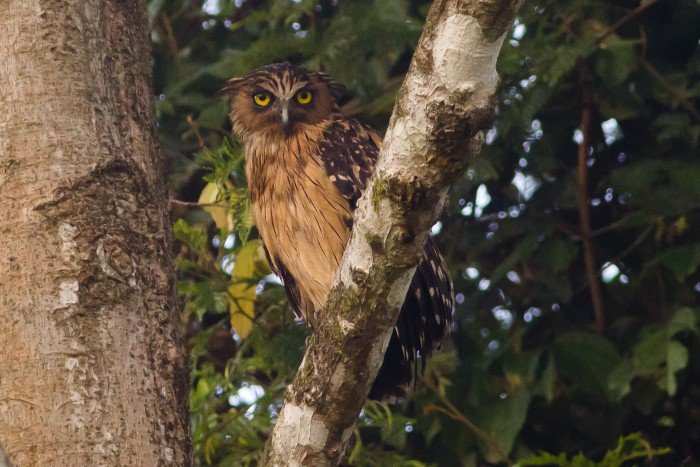 I am overjoyed. Of Borneo's eight hornbill species this was the one I had hoped to photograph the most!
On the two hour drive to Sandakan ( the town from where I would fly out of Borneo the next morning) I thought about my stay at the lodge. I had found the whole experience to be very good value for money. I had been lucky to see most of the animals that the lodge boasted about. I was only disappointed by two things. First, I noticed that the Kinabatangan river was the colour of milky tea. Logs of wood of all sizes floated in the water and sometimes bumped into the boat if the guide didn't notice them. I wasn't sure this was normal and when I checked with Asar he confirmed my suspicions. Apparently there was still a heavy logging industry in Borneo and tons of soil and wood were being washed away by the river because of it.
My second disappointment was that I did not see many birds. On a good day I still saw just about a fifth of  the number of species I would see on trips I conducted back in Goa (my home state in India). At first I attributed this to being in the wrong place for birding.
But then a few days later I would try birding at Penang national park, the aqueduct, the botanical garden and a few other places in Penang and find even less number of species! My disappointment grew worse until I met up with Mr. Kanda Kumar (a birding expert) in Penang. Mr Kumar pointed out to me that there were two main reasons for me not seeing too many birds.
The first, as I had noticed, was that the rainforest in most places is extremely dense and because of rainfall pretty much throughout the year the trees hardly if ever shed their leaves. Sighting birds in such dense foliage is extremely difficult. Kumar himself had spent years in Malaysian forests and had still not seen many of the birds in the Malaysian bird checklist.
The second issue as Kumar rightfully pointed out was that I had been ignoring most of the birds that I had seen back in India! I had noticed that over half of the species I spotted were repeated from back in Goa and other parts of India. It was no wonder that I found birding in Malaysia to be below average.
I decided to spend the next several days hunting for snakes and insects with my friend Yusoff and his friend Lee. Lee turned out to be quite an expert on snakes and centipedes.
On my first morning out with them we found a Malayan giant millipede, a beautiful stick insect, a Painted bronzeback tree snake and a male Temple viper!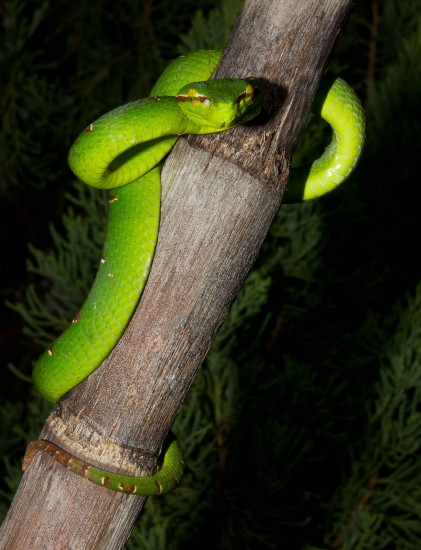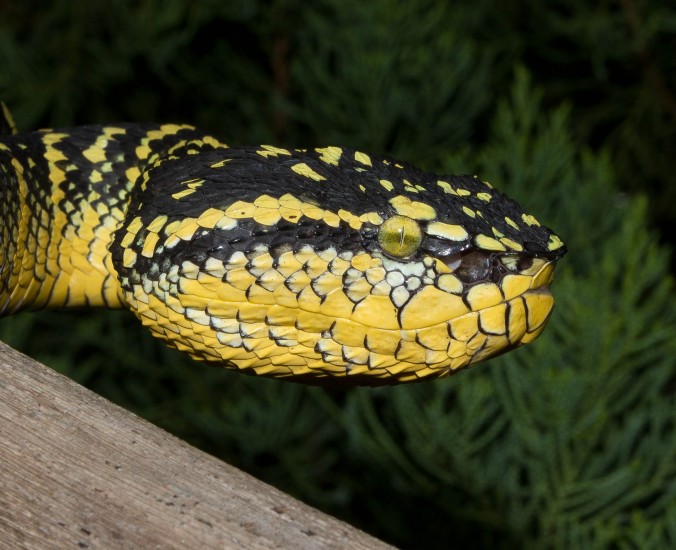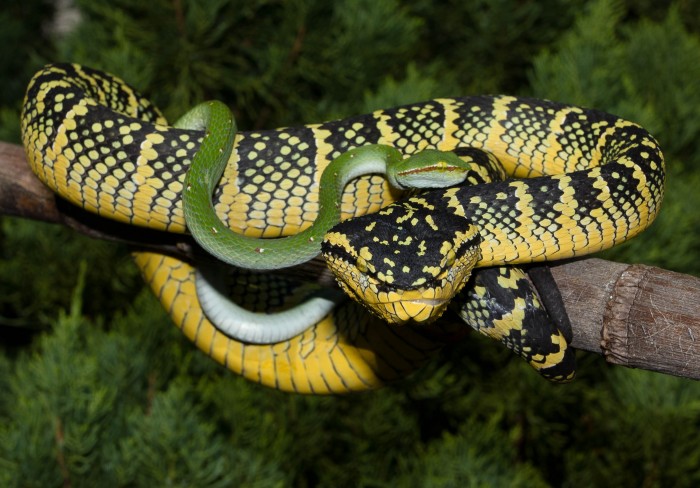 Above: the green one is the male and the much larger yellow snake is the female temple viper!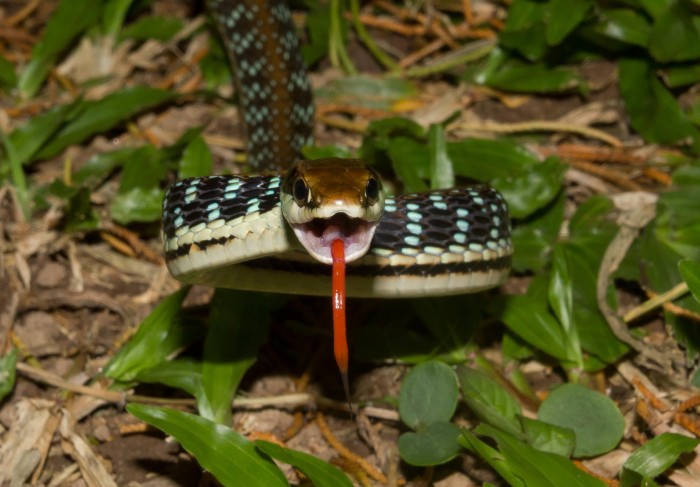 Above: Painted Bronzeback tree snake
On another morning with Yusoff I was treated to a sight of eight large otters galloping across a road to dive into a large dam!
On Kumar's recommendation Yusoff and I made a trip to Cameroon highlands which is a hillstation about six hours by bus from Penang. The dive to Cameroon highlands was very scenic. At Cameroon highlands I managed to find a very good bird guide  called Satya (www.ecocameron.com) who was the best guide I had so far met in Malaysia. Despite Satya being around though the birding (as usual) turned out to be extremely difficult and bird photography even more so!
Below: Peaceful Dove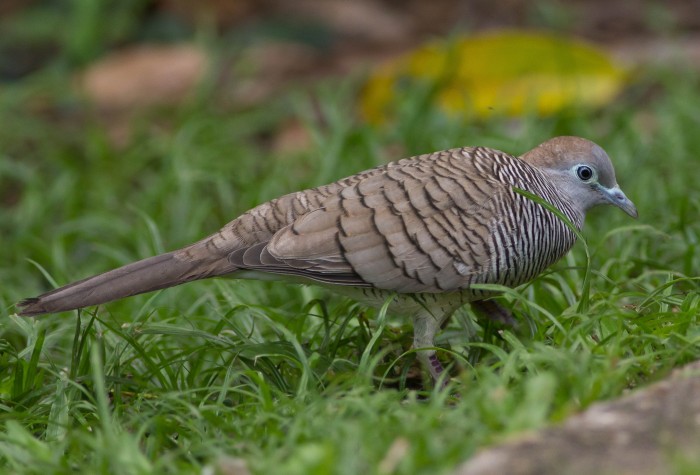 Below: Dollar bird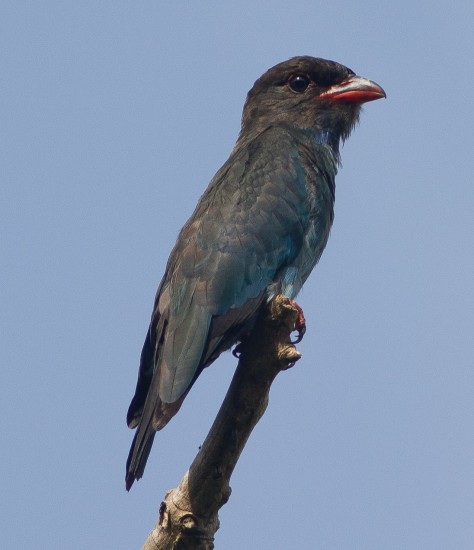 Below:
Silver eared Mesia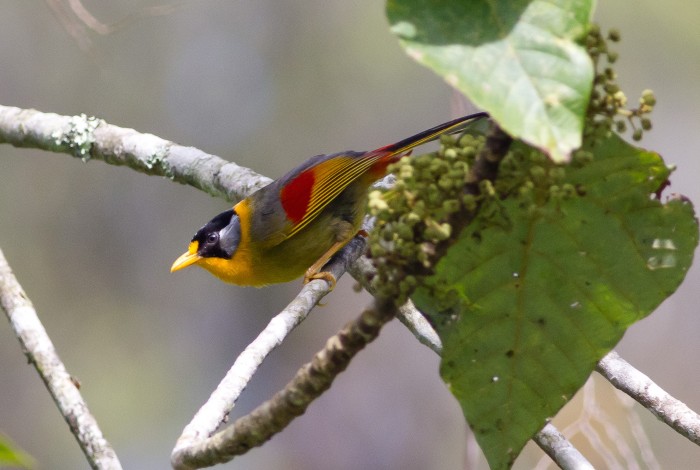 After twenty days of being in Malaysia I was back in India. Will I go back again? I'm sure I will. But next time I'll visit Sarawak in Borneo instead. The biggest cave in the world (Deer cave) is found there. That would be nice to see. But unlike this time I'll be better prepared. Atleast I won't have too many expectations for seeing a lot of birds. And when it comes to diving it will be Sipadan or nothing else!